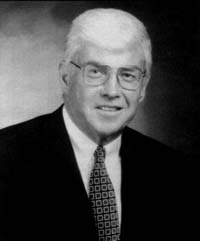 Training to Lead: The Impact of Sports on Leadership
JACK KEMP
TUESDAY, SEPTEMBER 30, 1997
When Jack Kemp was named the Republican candidate for Vice President in August of 1996, he energized a floundering campaign with his message of tax cuts to stimulate growth and expand opportunity for all Americans. Kemp's energy and leadership was key to the Republican rebound in the polls. Unquestionably, his ability to command an audience and develop an overall strategy for the campaign was based in his background as a leader on the football field. For Jack Kemp, success in athletics contributed heavily to success in politics.

When Kemp entered the political realm as a Congressman representing the Buffalo area and western New York, he was already known to millions because of his accomplishments in professional football. Kemp is a graduate of Occidental College where he was a star quarterback and he entered the new American Football League soon after graduation. He eventually became the starting quarterback for the San Diego Chargers and grew into the role of a team leader. He was captain of the Chargers from 1960 to 1962 and also of the Buffalo Bills, the team he helped lead to the AFL championship in 1964 and 1965, when he was named the league's most valuable player. Showing his penchant for leadership and organization, he cofounded the AFL Players Association and was five times elected president.

After Kemp's transition to the political realm, he continued the same pattern of leadership and success. He represented the Buffalo area for 18 years in the U.S. House of Representatives from 1971 to 1989. He served for seven years in the Republican
leadership as Chairman of the House Republican Conference. Kemp served for four years in the Cabinet as Secretary of Housing and Urban Development and proved to be one of our nation's most innovative leaders. He was the first and strongest advocate of Enterprise Zones to encourage entrepreneurship and job creation in urban America and of expanding home ownership among the poor through resident management and ownership of public housing.

Kemp is a codirector of Empower America, a public policy and advocacy organization he cofounded in 1993 with William Bennett and then-ambassador Jeanne Kirkpatrick. Empower America is dedicated to three founding principles at the core of Kemp's convictions: expanding freedom and democratic capitalism; promoting policies to expand economic growth and entrepreneurship for our nation; and advancing social policies that empower people, not government bureaucracies.

Jack Kemp is visiting Claremont McKenna College as Chair of the Henry Kravis Leadership Institute's conference entitled "Training to Lead: The Impact of Sports on Leadership." His talk this evening at the Athenaeum is the keynote address for the conference and follows a panel discussion to be held from 3:00 to 5:00 p.m. in Mary Pickford Auditorium.

The dinner at the Athenaeum is for members of the CMC community only. The public is invited to the address at 6:45 p.m. and overflow seating will be accommodated in McKenna Auditorium with live, remote broadcast.