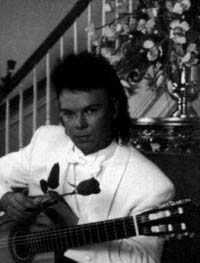 Classical Guitar
G0RDON O'BRIEN
MONDAY, OCTOBER 6, 1997
Back by popular demand! Last spring Athenaeum guests were transported to new aesthetic realms by Gordon O'Brien's muse, and now he has consented to return. O'Brien's brilliant technique and artistry are outdone only by his modesty and cheerful attitude.

O'Brien has been labeled one of the world's finest musicians. He certainly started out as a prodigy, beginning the study of guitar at the age of 6; within a year he was beyond the ability of his first professional teacher. By the age of 12 he had played with the Toronto Symphony Orchestra and on the CBC. The years since have only added skill and maturity to his music. He has taken first prize at several international contests, including The John Williams Australian International, the Leo Brouwer International Guitar Concerto Competition, the Edward Stotsenberg Classical Guitar Competition, and the N.G.S.W. International Guitar Concerto Competition. His studies and tours have taken him around the world to play with the world's masters and he is now acknowledged as a master himself.

The evening's program will include "Elegy for Guitar" by Mertz and "Pavane (pour une infante defunte)" by Ravel, as well as music from Bach, Brouwer, Narvaez, Albeniz, and Barrios.

O'Brien's concert is the first in the Stotsenberg Chamber Music Series that will be continued spring semester. This series is funded by a gift from Ed and Dorothy Stotsenberg, friends of CMC.