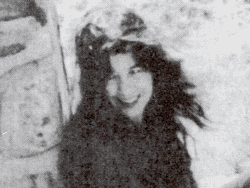 Poet Reads From Her Work
JOY HARJO
TUESDAY, OCTOBER 28, 1997
Native American writers are creating a body of literature that has its roots firmly planted in a rich and ancient oral
tradition. But stories once told around campfires have evolved into stories grounded in the present as these writers
explore what it means to be Native American. Joy Harjo's several books of poetry acknowledge their indebtedness
to those oral roots and forge a link between the traditions of the past and today. "We are evolving as tribal
cultures," says Harjo. "We're viable, living cultures, not artifacts as we are still depicted in most forms by others.
All Native American writers are links in the growth and expansion of our cultures. It's a natural progression," she
says.
Harjo was born in Tulsa, Oklahoma, in 1951 and is a member of the Muscogee (or Creek) Tribe. She was
graduated from high school in 1968, from the Institute of American Indian Arts, and from the University of New
Mexico in 1976. She received her M.F.A. in creative writing from the Iowa Writer's Workshop at the University
of Iowa in 1978. She also completed the filmmaking program at the Anthropology Film Center.
Harjo has received numerous awards for her art, including the Lifetime Achievement Award from the Native
Writers' Circle of the Americas, the American Book Award, and has been the recipient of two NEA Creative
Writing Fellowships. Among her publications are five books of poetry with another forthcoming. Her most recent
publication is the The Woman Who Fell from the Sky (1994). Harjo does not limit herself to poetry: she has also narrated
The Native Americans (1994) series on TBS and the Emmy Award winning Navajo Codetalkers (1994) for National
Geographic. She also plays saxophone with her band, Joy Harjo and Poetic Justice. The band performed at the
1996 Cultural Olympiad in Atlanta and has toured the United States and Europe.