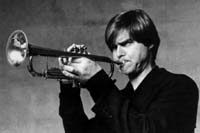 The Tom Harrell Quintet: A Jazz Concert
TOM HARRELL, trumpet
XAVIER DAVIS, piano
YORON ISRAEL, drums
GREG TARDY, saxophone
UGONNA OKEEGWO, bass
MONDAY, NOVEMBER 3, 1997
Trumpet players tend to be the most extroverted jazz musicians. It's natural; their sound can dominate even a large ensemble, and nothing stirs an audience as reliably as a bravura trumpet solo that climaxes in shrieking high notes. But Tom Harrell is not showy. Offstage, the bandleader seems to shrink into himself. He stands curled over with his chin on his chest, looking at the floor. His hands shake, the result of powerful tranquilizers prescribed for his schizophrenia.

That frailty drops away when he moves to the microphone, draws himself up to his full height and puts the horn to his battered lips. But even then he isn't selling pyrotechnics. He doesn't own the fattest tone in jazz, or the flashiest technique. What has won Harrell the acclaim of his peers-and, at 50, a growing following-is something as simple as it is rare: pure melodic genius.

In the December 1996 edition of Down Beat, the jazz aficionado's magazine of choice, Harrell swept the trumpet category in the annual readers' poll. In the first half of this decade, Harrell established himself as a leader and recording artist for independent labels like Criss Cross, Contemporary, and Chesky. His success grabbed the attention of the major label RCA Victor, which released Harrell's latest and perhaps most ambitious work to date-the dark-toned "Labyrinth"-released shortly before the Down Beat poll.

The Athenaeum is privileged to host this rising star of the jazz world with a reception and dinner beginning at 5:30 p.m., followed by a performance by the Tom Harrell Quintet at 6:45 p.m. This concert is made possible by generous support from the Stumm Music Fund.