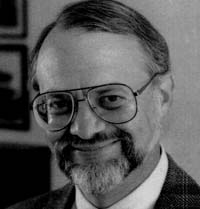 Revisiting the Lincoln-Douglas Debates
DAVID ZAREFSKY
WEDNESDAY, NOVEMBER 12, 1997
Rhetoric and politics have gone hand in hand since long before ancient Greece. Even in the last century, many of the key figures of political history-Churchill, Kennedy, and Roosevelt-are most vividly recalled by virtue of their inspiring words. Among the greatest of these statesmen was Abraham Lincoln. Though probably best remembered for his speeches as president, Lincoln's influence over American rhetoric and his fame as a speaker really began in the Lincoln-Douglas debates.

In the antebellum period political speeches were published far from where they were given, providing an extended audience with access to fairly localized events. This practice was particularly important with the Lincoln-Douglas debates in the Senatorial race of 1858, as it presented both of these key individuals to the United States at a time when views on slavery, union, and economic measures were becoming fixed.

David Zarefsky's research into the Lincoln-Douglas debates led to his book, Lincoln, Douglas, and Slavery: In the Crucible of Public Debate (1990), which was recognized by the Speech Communication Association with the 1991 Winans-Wichelns Award for Distinguished Scholarship in Rhetoric and Public Address. His receipt of this same award for President Johnson's War on Poverty: Rhetoric and History (1986), makes him one of only two people to have received the award twice.

Zarefsky has been a member of the faculty of the School of Speech at Northwestern University since 1968 and has been associate dean of the School of Speech since 1983. In 1993 he served as president of the Speech Communications Association (SCA), one of the oldest and largest professional organizations for scholars, teachers and practitioners in the fields of communications and performance studies.

Zarefsky received the Distinguished Scholar Award from the SCA in 1994, the Distinguished Service Award from the American Forensics Association and has been elected 12 times to the Associated Student Government Honor Roll of Teaching at Northwestern.

In addition to his two award-winning books, Zarefsky has served on the editorial boards of the Quarterly Jourbal of Speech, Southern Communication Journal, Journal of the Association for Communication Education, and Argumentation and Advocacy.