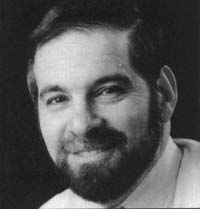 Documenting the Holocaust: The Task of All History
MICHAEL BERENBAUM
TUESDAY, NOVEMBER 18, 1997
The hold of the Holocaust over the imagination of the western world is immense. For those involved, either as responsible parties or victims, the dreadful memory looms large as they must reckon with the past and try to move on to the future. As the generations involved in this tragedy are passing away, they have charged newer generations with the task of keeping the memory alive as a warning to the future. An important tool in this task is the video camera. Though documentaries about the Holocaust abound, it has only been recently that the task of recording the living memory has become urgent.

In the forefront of this effort has been Michael Berenbaum, an expert in the use of video to preserve history. With a unique ability to succeed in diverse fields and a driving motivation, Berenbaum has been recognized as an author, scholar, film producer, journalist, and political activist. In 1997 he was named president and chief executive officer of the Survivors of the Shoah Visual History Foundation. The nonprofit organization, founded by Steven Spielberg, is dedicated to videotaping and preserving interviews of Holocaust survivors throughout the world. This archive will be used as a tool for global education about the Holocaust and to teach racial, ethnic, and cultural tolerance. Before this appointment, he was Director of the U.S. Holocaust Research Institute of the U.S. Holocaust Memorial Museum. He also served as the Museum's Project Director from 1988-93. He has taught at Wesleyan, Yale, and Georgetown Universities.

Berenbaum is the author of twelve books, including The Holocaust: Religious and Philosophical Implications (1989), coauthored with CMC philosophy professor John Roth, as well as numerous scholarly articles and hundreds of journalistic pieces. In addition, he coproduced One Survivor Remembers: The Gerda Weissman Klein Story (1996) which won an Academy Award, an Emmy Award, and the Cable Ace Award.