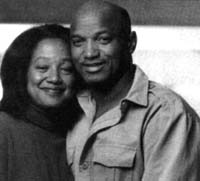 An Afternoon with Geronimo Ji Jaga Pratt
GERONIM0 JI JAGA (PRATT)
THURSDAY, NOVEMBER 20, 1997
4:00 P.M., McKENNA AUDITORIUM

In a society that imprisons unjustly, the only place for a just man is in prison.

-Geronimo Ji Jaga
(quoting from Henry David Thoreau)

Among the many controversies of the '60s that still haunt us today is the mystery surrounding the role of the Black Panther Party. As a militant group advocating change, many questions remain unanswered regarding its activities. The case of Elmer Pratt (now known as Geronimo Ji Jaga) is the most prominent example. A former Green Beret and decorated Vietnam veteran, Ji Jaga, who was deputy defense minister for the Black Panthers and head of its Southern California chapter, was convicted of the 1968 murder of a Santa Monica school teacher in 1972. He was sentenced to 25 years to life in prison. The conviction was overturned in a Santa Ana Superior Court in May of this year, and two weeks later the judge released Ji Jaga on $25,000 bail pending a new trial.

The matter is still cloaked in controversy, much of which seems to stem from long-dormant passions of the '60s being reawakened. Ji Jaga contends that he was railroaded for the killing, as FBI and police sought to undermine the Black Panther movement in California. Defended by Johnnie Cochran, Ji Jaga managed to get a retrial based on new evidence that a witness against him lied under oath about being a police and FBI informant. Another piece of evidence was a 1970 FBI memo containing a directive to "neutralize Pratt as an effective B.P.P. functionary." Ji Jaga maintains that he was in Oakland at the Black Panther Party headquarters at the time of the killing. However, the prosecution claims that there is more evidence implicating Ji Jaga, and so his struggle continues.

No reservations are needed to attend this 4:00 p.m. lecture in McKenna Auditorium and seating is on a first-come basis. This lecture is sponsored by the Athenaeum, OBSA, and CMC alumnus John Allen '73.