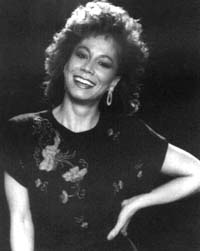 The Last Word: Celebrating the Life of Dr. Martin Luther King Jr. with Poetry and Prose
SCHYLEEN QUALLS
MONDAY, JANUARY 26, 1998
I accept this [Nobel] award with an abiding faith in America and an audacious faith in the future of mankind. I refuse to accept the idea that the "isness" of man's present nature makes him morally incapable of reaching out for the "oughtness" that forever confronts him.

-Dr. Martin Luther King Jr.

Schyleen Qualls is an accomplished actress whose dramatic presentation titled "The Last Word" is meant to inspire and uplift. Her one-woman show combines the poetry of African-American writers, such as Langston Hughes and Maya Angelou, with personal narratives to create a unique and entertaining collage of life in America. Qualls's readings emphasize positive self-images for people of all cultures and encourage the exploration of the richness and diversity of American culture. According to Qualls, her work strives to make her audience more "knowledgeable and openminded world citizens."

Qualls also requests that the audience consider the question, "What are some of the major events in our lives that have helped to shape our various personal world views?" She will address this question in the context of the life of Dr. King, as well as relate it to the impact on our lives of the film Amistad (1997), Qualls recommends that as many individuals as possible see the film.

Performances by Qualls have been well received at many of the nation's leading colleges and universities, including at Harvard University where she received the University Foundation's Award for her "outstanding contributions to performing arts and to race and intercultural relations in America."

A native of Denver, Colorado, Qualls has taken her performance to over thirty countries and was a member of the United States delegation to the Second World Black and African Festival of Arts and Culture held in Lagos, Nigeria. She was a feature performer with the Reverend Jesse Jackson during his 1988 presidential campaign and the same year was a performer in a Rainbow Coalition delegation to East Germany led by the Apollo XIV astronaut Dr. Edgar Mitchell. She is the cofounder of the Cleo Parker Robinson Dance Ensemble and has toured Europe, Africa, Latin America, Australia, the Caribbean, and the South Pacific in that capacity. Qualls also performed at the Fourth United Nations Conference on Women in Beijing, China.

Please join your friends at the Athenaeum to honor Dr. Martin Luther King Jr. with a memorable performance by poet-teller Schyleen Qualls.