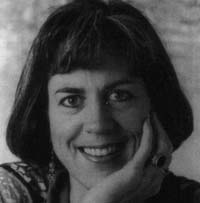 The Courage to Compete
MARIAH BURTON NELSON
WEDNESDAY, JANUARY 28, 1998
"If you ask me what I came into this world to do, I will tell you: I came to live out loud. "

-Emil Zola

Mariah Burton Nelson started swimming at age three and lettered in five sports in high school. At Stanford, she was the top scorer on the basketball team, averaging 19 points per game. To this day she holds the Stanford record for rebounds per game. She continued with basketball during a professional career in Europe and the United States, and in recent years she returned to swimming. Her main event is the 1650-yard freestyle, and her time is in the top five nationally for her age group.

After her professional sports career Nelson decided she wanted to become a writer and, following a common adage, she decided to write about what she knows. Her bestselling book The Stronger Women Get, the More Men Love Football: Sexism and the American Culture of Sports (1995) links gender-based pay and scholarship inequity with male violence and male domination in sports and in society at large. She also argues that formerly competitive coed sports have been replaced with sex-segregated sports after women began to win against male competitors.

Her soon-to-be-released book, Embracing Victory: Life Lessons in Competition and Compassion (1999), seeks to persuade women how rewarding competition can be when done in the right way. She argues that women, like men, need to compete in order to thrive in society. However, the form of competition she envisions differs from the aggressive male or "conqueror" model that focuses on winning, and also from the traditional female or "cheerleader" model, in which women compete on the sidelines. Instead, Nelson urges women to embrace what she terms the "champion" model, which is marked by compassion and integrity.

Nelson has written for The New York Times, The Washington Post, USA Today, Ms., Glamour, and Cosmopolitan. She has appeared on Good Morning America, Today, Phil Donahue, Larry King Live, Dateline, and Prime Time Live.

Ms. Nelson's talk is the first in a series of presentations entitled Women Leaders: Meeting Challenges, Making Changes, sponsored by the Kravis Leadership Institute.