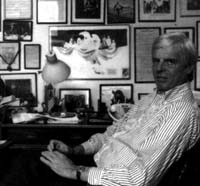 "Tru" Confessions
GEORGE PLIMPTON
MONDAY, FEBRUARY 2, 1998
In the late 1980s George Plimpton composed a short story that combined Hemingway's style and Truman Capote's sensibility. The parody was based on the premise that Capote had adopted Hemingway's style to break the writer's block he was experiencing finishing his Proustian epic, Answered Prayers: The Unfinished Novel (1989). Capote was not amused, and though Plimpton wrote a letter of apology, the two never spoke again. (Capote told acquaintances that Plimpton "had scratched at his door for forgiveness.") Plimpton has now published a startling oral biography of the controversial author of In Cold Blood (1966) entitled: Truman Capote: In Which Various Friends, Enemies, Acquaintances, and Detractors Recall His Turbulent Career (1997). Drawing on the recollections of such figures as Norman Mailer, Gore Vidal, William F. Buckley, and himself, Plimpton creates a complex portrait of one of the originators of the "non-fiction novel," and one of the most infamous characters of the contemporary literary scene.

Plimpton is one of the founding figures of the New Journalism (participatory journalism). His stints playing for the New York Yankees and the Detroit Lions became the basis for Out of My League (1961) and Paper Lion (1966). (Hemingway called Plimpton's Yankees gig "the dark side of the moon for Walter Mitty.") His forays into boxing and friendship with Muhammad Ali are recounted in Shadow Box (1977) and in the documentary When We Were Kings (1996). One of the most accomplished American sportswriters, Plimpton has also edited The Norton Black of Sports (1992). His previous biographies include Edie: An American Biography (1982) and American Journey: The Times of Robert F. Kennedy (1970).

A graduate of Harvard and Cambridge Universities, Plimpton founded the renowned literary quarterly The Paris Review, of which he is still editor. In addition to his work as an editor and writer, Plimpton has appeared recently in several films, including Nixon (1995)and Good Will Hunting (1997). He is the fireworks commissioner of New York City.