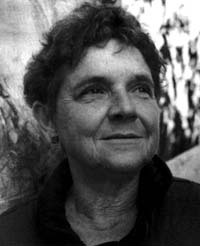 Poet Reads from Her Work
ADRIENNE RICH
WEDNESDAY, FEBRUARY 4, 1998
Arienne Rich is one of the most highly acclaimed poets of the century. Her poetry is well known for its unique blend of public and personal, artistic and political. Her indomitable voice champions the causes of the underrepresented, isolated, marginalized, and invisible-in short, the oppressed. Her commitment to the integrity of her muse became a matter of public speculation last July when she declined the National Medal for the Arts claiming, "My concern for my country is inextricable from my concern as an artist. I could not participate in a ritual that would feel so hypocritical to me."

Her life as a poet has been long and distinguished ever since she won the Yale Younger Poets Award at the age of twenty-one. Since that award and the publication of her first book, she has been awarded the Tanning Award for Mastery in the Art of Poetry, the National Book Award, the Ruth Lilly Poetry Prize, the Common Wealth Award in Literature, a MacArthur Fellowship, and two Guggenheims. Rich is the author of more than fifteen volumes of poetry, including Driving into the Wreck: Poems 1971-1972 (1973), The Dream of a Common Language 1974-1977 (1978), The Fact of a Doorframe: Poems Selected and New 1950-1984 (1994), Time 's Power: Poems 1985-1988 (1989), An Atlas of a Difficult World: Poems 1988-1991 (1995), and Dark Fields of the Republic: Poems 1991-1995 (1995). She has also authored four books of nonfiction prose, including Of Woman Born: Motherhood as Experience (1977) and Institution and What is Found There: Notebooks on Poetry and Politics (1993).

This evening of poetry by Adrienne Rich is jointly sponsored by the Marian Miner Cook Athenaeum and the Department of English at Claremont Graduate University, to inaugurate its M.A. degree in literature and creative writing.