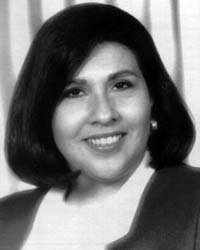 The Challenge of Leadership in the Public Sector
GLORIA MOLINA
THURSDAY, FEBRUARY 26, 1998
With a reputation for candor and independence, Gloria Molina is best known for her strong, issue-oriented style and her commitment to community empowerment. Noted for her tenacious, effective leadership in the fight against siting a prison in East Los Angeles, Molina has a legislative history of standing up for the average citizen against insurmountable odds. She has been listed in several magazines, including Time and Working Woman, as a "rising star" and "someone to watch."

Molina was first elected to office in 1982 as State Assemblywoman for the 56th District, where she introduced bills aimed at protecting consumers from unfair bank charges, insurance redlining, and utility company rip-offs, as well as legislation that protected tuition-free community colleges and the safety of children. In 1987 she was elected to the Los Angeles City Council where she served as the Councilwoman for the First District until 1991. On the Council she initiated new forms of city development, new laws to protect citizens from toxins, an after-school child care program, and a sewer lifeline rate for senior citizens. In February 1991 she was elected to the Los Angeles County Board of Supervisors, representing the First Supervisorial District. Since that election, Molina has earned a reputation as a "watchdog" for taxpayer dollars. She is the first Latina to be elected to the California State Legislature, the Los Angeles City Council, and the Los Angeles Board of Supervisors.

Ms. Molina has also been a leader in the areas of crimefighting and public safety. She has, among many other initiatives, organized over 40 neighborhood watch organizations in the District and instituted a tough, nationally- recognized curfew enforcement program. She serves as a vice chair of the Democratic National Committee and has received an appointment by President Clinton to the Advisory Commission on Intergovernmental Affairs and an appointment by the United States Trade Representative to the Intergovernmental Policy Advisory Committee.