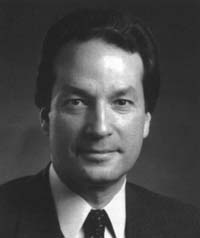 Corporate Environmental Ethics
GERALD SECUNDY
THURSDAY, MARCH 5, 1998
As a self-described knee-jerk liberal, Gerald Secundy has spent the majority of his career working for one of the world's largest oil companies. While many would suppose that a liberal environmentalist would be uncomfortable with such employment, Secundy saw his move from an environmental lawyer for the Justice Department to an environmental lawyer for the Atlantic Richfield Company as a great opportunity. He saw this move as a chance to work from the inside, to bring change to a corporation and industry that had just begun to confront the environmental movement.

Over his years at Los Angeles-based ARCO, Secundy served in a number of positions. He has been Manager of Investor Relations, Manager of Long Range Planning, and Assistant Treasurer of Atlantic Richfield Company. In 1994 he was appointed Vice President, External Affairs and Environmental Health & Safety for ARCO Products Company. At the end of this past year, Secundy retired from ARCO.

After his graduation from Phillips Academy (Andover), Harvard College, and Columbia Law School, Secundy began a lifelong commitment to giving back to society, starting with service in the Peace Corps as director of a youth center in Cusco, Peru. During his career at ARCO Secundy actively sought to promote dialogue between environmentalists and corporations, including membership on the board of directors for the California Council for the Environmental & Economic Balance (CCEEB).

Gerald Secundy is the second speaker in the Athenaeum series Corporate Environmental Leadership sponsored by the Roberts Environmental Center.