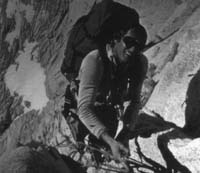 The Nature of Adventure
MICHAEL GRABER '74
MONDAY, MARCH 9, 1998
While many CMC students pursue a life of leadership through high finance or a thriving legal practice and perceive outdoor activities as a wonderful escape from the pressures of the corporate world, Michael Graber '74 has turned the tables. His life after graduation broke the CMC mold, and he has pursued recreation and adventure full time.

As one of America's leading alpinists, Graber has pioneered first ascents on four continents, including two in Antarctica. A two-time veteran of Mount Everest, he climbed in 1987 to 28,000 feet (1,000 feet short of the summit) before being turned back by 100-m.p.h. winds and frostbite. Graber is also an accomplished skier, mountain-biker, runner, and wind-surfer.

Graber has shared his adventurous spirit through an accomplished film career. He was the cameraman on the awardwinning specials "Ski to Forbidden Plateau" and "Antarctic Odyssey" (1988), and the prime-time blockbuster miniseries "TransAntarctic Expedition." He filmed the war in Afghanistan for CBS Evening News, and in 1988 he received an Emmy for "The Battle for Afghanistan," an hour-long CBS News Special.

Graber graduated from CMC with a degree in philosophy. As a running back for Stags Football, he received the MVP award as a senior. He is rumored to have scaled the exterior of one of the tower dorms without ropes. Graber returns to his alma mater to share his thoughts about the true nature of adventure and talk about the three remaining wilderness areas to be explored. In addition, you will be thrilled by the beautiful slides that will be part of the presentation.