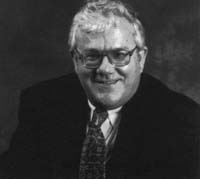 Koinonia: Diversity and Unity in Earliest Christianity
LUKE TIMOTHY JOHNSON
TUESDAY, MARCH 10, 1998
Building on the research of the past several decades, Luke Timothy Johnson examines some of the ways in which a rediscovery of classical rhetoric and moral instruction has enabled a fresh appreciation for the ways in which the first Christians drew equally from Jerusalem and Athens.

Dr. Johnson is the Robert W. Woodruff Professor of New Testament and Christian Origins at the Candler School of Theology at Emory University. He specializes in the history and historiography of ancient Christianity. He was for many years a Benedictine monk and priest before becoming a biblical scholar. He taught at Yale Divinity School from 1976 to 1982 and at Indiana University from 1982 until his appointment at Emory in 1992. During his years at Indiana he received three awards for outstanding teaching.

Professor Johnson received his M. Div. from St. Meinrad School of Theology and his Ph.D. from Yale. He is the author of The Writings of the New Testament: An Interpretation (1986); a two volume commentary on Luke-Acts for the Sacra Pagina series; and a number of books and articles for the church, including Sharing Possessions: Mandate and Symbol of Faith (1981) and Faith's Freedom: A Classic Spirituality for Contemporary Christians (1990). His most recent books include the Anchor Bible commentary's Letter of James (1995); The Real Jesus: The Misguided Quest for the Historical Jesus and the Truth of the Traditional Gospels (1996), and Religious Experience in Earliest Christianity: Tagline: A Missing Dimension in New Testament Studies (1998).