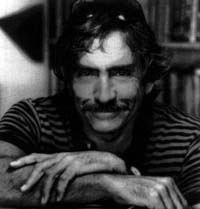 Playwright Reads from His Work
EDWARD ALBEE
THURSDAY, MARCH 26, 1998
A good play is defined by Edward Albee as one "with something to say and the ability to say it." He believes that "a play should bring its audience some special sense of awareness of the times, alter and shape that awareness in some significant manner." Albee's own plays have been doing just that for the past 40 years.

Long acclaimed by critics as "America's most important dramatist still writing," Albee's award-winning plays are produced in theaters throughout the world. Albee continues to write plays and direct some of his earlier ones. His widely recognized Who's Afraid of Virginia Woolf? (1962) is one of the most frequently performed plays created in recent times by any American dramatist. It was this piece which brought Albee into the international spotlight as one of the greatest playwrights of our time. The play has been translated into many languages and was made into a movie starring Richard Burton and Elizabeth Taylor.

Albee grew up in a famed theatrical family. He started seeing plays at the age of five, and began writing at six. He has written over 25 plays, three of which, A Delicate Balance (1966), Seascape (1974), and Three Tall Women (1991), have won Pulitzer Prizes. In addition to the Pulitzer Prize, Albee has received other honors including the Foreign Press Association Award, the Gold Medal in Drama from the Academy and Institute of Arts and Letters, the Tony Award, and the National Medal of Arts.

Edward Albee's appearance is sponsored by the Athenaeum and the Gould Center for Humanistic Studies. Dinner reservations are for persons affiliated with CMC only. Albee's 6:45 p.m. talk is open to all, no reservations needed.