Athenaeum Location
Print Newsletter
March 29, 1998
Vol. 13, No. 10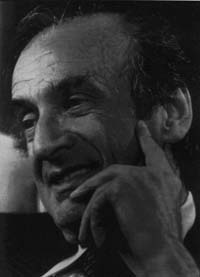 Remembering the 20th Century on the Eve of the New Millennium
ELIE WIESEL
SUNDAY, MARCH 29, 1998 2:00 p.m.
BRIDGES AUDITORIUM
450 COLLEGE WAY

Nobel Peace Prize winner and Boston University Professor Elie Wiesel has worked on behalf of oppressed people for much of his adult life. His personal experience of the Holocaust has led him to use his talents as an author, teacher, and storyteller to defend human rights and peace throughout the world.

A native of Sighet, Transylvania (Romania), Wiesel and his family were deported by the Nazis to Auschwitz when he was fifteen years old. His mother and younger sister perished there; his two older sisters survived. Wiesel and his father were later transported to Buchenwald, where his father died. After the war, Wiesel studied in Paris and later became a journalist in that city; yet, he remained silent about what he had endured as an inmate in the death camps. During an interview with French writer Francois Mauriac, Wiesel was persuaded to end that silence and he subsequently wrote Night. Since its publication in 1958, it has been translated into twenty-five languages and millions of copies have been sold.

A devoted supporter of Israel, Wiesel has also defended the cause of Soviet Jews, Nicaragua's Miskito Indians, Argentina's "disappeared," Cambodian refugees, the Kurds, South African apartheid victims, famine victims in Africa, and more recently the victims and prisoners in the former Yugoslavia. His efforts have earned him the Presidential Medal of Freedom, the U.S. Congressional Gold Medal and the Medal of Liberty Award, the rank of Grand Officer in the French Legion of Honor, and, in 1986, the Nobel Peace Prize. He has received more than ninety honorary degrees from institutions of higher learning.

Wiesel has written over forty books including A Beggar in Jerusalem (1978), The Testament (1982), The Fifth Son: A Novel (1985), and All Rivers Run to the Sea: Memoirs (1995).

Since 1976, Wiesel has been the Andrew W. Mellon Professor in the Humanities at Boston University where he also holds the title of University Professor.

Elie Wiesel's address at Bridges Auditorium is sponsored by the Marian Miner Cook Athenaeum, the Res Publica Society of Claremont McKenna College, and the Family of Benjamin Z. Gould Center for Humanistic Studies as part of the Athenaeum speaker series Questions of Civilization.

The lecture by Elie Wiesel is free and open to all. No reservations are required.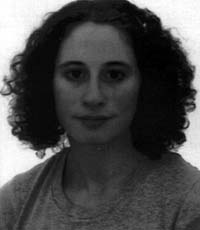 As They See It: Sexual Assault and Prevention
ALLYSON KURKER
MONDAY, MARCH 30, 1998
Sexual assault is not an issue that anyone likes to think or talk about. Yet this crime of silence affects thousands of high school and college students every year in epidemic proportions: before the age of 18, one in three girls and one in seven boys will be the victims of sexual assault or incest. And, according to Robin Warsaw's I Never Called It Rape (1988), every 21 hours, on each college campus, a rape occurs.

On the night of her graduation from high school, Allyson Kurker was sexually assaulted by a classmate. Only after she learned that her perpetrator had been expelled from college for another assault did Allyson find the courage to press criminal charges against him. Her case received national media attention when the administrators from her former high school rallied to his defense. Since then, Allyson has transcended the limits of victim and has become an activist by speaking to college and high school audiences.

Allyson graduated from Connecticut College in May 1997 with a B.A. in economics. She has postponed any graduate school plans or future career goals to continue speaking on this important issue. In November 1996, Allyson's efforts were recognized by the Massachusetts chapter of the National Organization for Women, who named her the recipient of their Woman of Courage Award, an honor reserved for those who have made ground-breaking efforts on behalf of women's rights and who have taken individual actions that serve as examples for others to follow.

You are welcome to join us for a lecture and discussion on this timely topic. Ms. Kurker's appearance is cosponsored by the Dean of Students at CMC.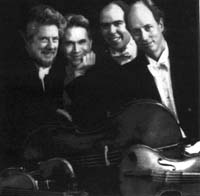 Manhattan String Quartet: Quartets by Bela Bartok and Leos Janacek
KENNETH FREED, violin
CHRIS FINCKEL, cello
JOHN DEXTER, viola
ERIC LEWIS, violin
TUESDAY, MARCH 31, 1998
Described by the Boston Globe as a national treasure, the Manhattan String Quartet has for the past 27 years charmed audiences throughout the United States, Europe, Canada, and Mexico. Regarded as the preeminent interpreter of the 15 string Quartets by Dmitri Shostakovich, the Manhattan String Quartet had recently presented the complete cycle in New York City at the Lincoln Center for the Performing Arts Great Performers Series, at the Town Hall, and on French National Radio. The ensemble's traversal of the Shostakovich cycle was the only chamber music recording to make Time magazine's Best of 1991 classical list.

After a series of concerts in Moscow and Leningrad in the fall of 1985, the quartet became the first American classical ensemble to give a full tour of the Soviet Union under the new cultural agreements. The first sold-out series of performances in 1986 was followed by an equally successful tour in 1989.

The Manhattan String Quartet has been Quartet-in-Residence at Colgate University for the past twelve years, and has also held similar posts at the Manhattan School of Music, Cornell University, Grinnell College, and the Corfu Festival in Greece. From 1981 to 1988, the Manhattan String Quartet was the resident ensemble at Connecticut's Music Mountain Festival where they gave weekly concerts on the radio to a national audience of millions and administered innovative chamber music programs for young professional string players and amateurs.

In their Athenaeum appearance, the Quartet will perform Quartet No. 2, Op. 17, by Bela Bartok and Quartet No. 2, "Intimate Letters," by Leos Janacek. This performance is part of the Stotsenberg Chamber Music Series, made possible by a generous gift from Dorothy and Ed Stotsenberg, friends of Claremont McKenna College.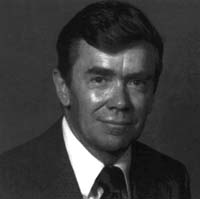 U.S. Diplomacy in the Middle East
BRUCE LAINGEN
WEDNESDAY, APRIL 1, 1998
The Persian Gulf continues to be a diplomatic quagmire, and the recent posturing of Saddam Hussein over the right of U.N. workers to inspect sites thought to house biological war materials served only to emphasize the need for careful attention and experienced American leadership in this region. Ambassador Bruce Laingen is the president of the American Academy of Diplomacy, a society of 100 men and women retired from an active role in U.S. Foreign Policy. Comprised mainly of individuals who have served as U.S. Ambassadors, the membership also includes all living former Secretaries of State, highlighting the important role of this society in maintaining the highest standards of conduct in diplomacy and acting as a collective elder statesman for the nation's current policy makers.

Ambassador Laingen served in the Foreign Service from 1949-87, including tours in Germany, Iran, Pakistan, and Afghanistan. After serving as Deputy Assistant Secretary for European Affairs, he was Ambassador to Malta from 1977-79. When he returned to Iran for a second tour, as charge d'affaires of the Embassy, he was taken hostage in the Iranian hostage crisis.

Following his release, Ambassador Laingen served as vice president of the National Defense University in Washington, D.C., until his retirement. He was executive director of the National Commission on Public Service (the Volcker Commission) from 1987 until it completed its work in 1990. Among his many awards and citations, he holds the Award for Valor from the Department of State, the Distinguished Public Service medal from the Department of Defense, the Distinguished Alumnus award from St. Olaf College, and a Presidential Meritorious award.

Ambassador Laingen joins the Athenaeum to discuss his hostage ordeal, the continuing need for commitment to public service, and the current state of affairs in the Middle East.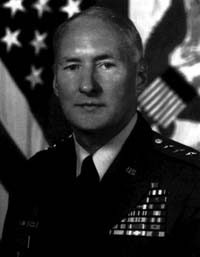 The U.S. Army in Europe
WILLIAM CROUCH '63
FRIDAY, APRIL 3, 1998 12:15 p.m.
General William Crouch, Vice Chief of Staff for the U.S. Army, will present a talk on the changing role of the U.S. military in post-Cold War Europe. Since the collapse of the Soviet Union, the United States has reduced the number of service personnel from 215,000 to 65,000 individuals and has closed over 600 facilities in Europe. General Crouch will discuss the strategic significance of the restructuring of the U.S. military presence in Europe and the nature of involvement of U.S. forces in achieving peace and stability on the European Continent.

Nearly a third of General Crouch's 34 years of Army service was in Europe, and his latest command tour included concurrent duty as Commander, Allied Land Forces, Central Europe (LANDCENT); and Commander, NATO Peace Implementation Force, Bosnia-Herzegovina.

An alumnus of CMC, General Crouch is also a graduate of the U.S. Army Command and General Staff College and the U.S. Army War College. His decorations include the Defense Distinguished Service Medal, the Distinguished Service Medal, the Silver Star, the Legion of Merit, and the Bronze Star.

Please join the Keck Center for International and Strategic Studies as it hosts General Crouch as the luncheon keynote speaker for its conference on "U.S. Relations with Europe." Lunch will be served at 11:45 a.m. General Crouch will speak at 12:15 p.m. The conference is all day Friday, April 3, in the Bauer Center Founders Room. For more information about the conference, please contact the Keck Center (909) 621-8213.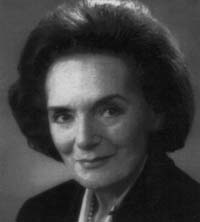 Challenges in Managing the Nonprofit Organization
FRANCES HESSELBEIN
MONDAY, APRIL 6, 1998 12:15 p.m.
Frances Hesselbein is the President and Chief Executive Officer of the Peter F. Drucker Foundation for Nonprofit Management and is Chair of the Board of Governors of the Josephson Institute for the Advancement of Ethics.

Hesselbein has been honored by presidents Bush and Clinton for her work in community service; she holds twelve Honorary Doctoral Degrees and is the winner of nine major awards, including the Distinguished Community Service Award from Mutual of America Life Insurance Company and the National Professional Leadership Award from the United Way of America. She also holds the distinguished United States of America Presidential Medal of Freedom.

Featured in numerous publications, her work as Chief Executive Officer of the Girl Scouts of America is published as a case study by the Harvard Business School. She appeared on the covers of Business Week and Savvy magazines as an example of managerial excellence, and Fortune for her leadership experience.

Her international work includes acting as Chair to the world conference in New Delhi on the Mutual Appreciation of Eastern and Western Cultural Values, Chair of the Salzburg Seminar on Managing Non-Governmental Organizations, and speaker at the Sixth Annual Johns Hopkins International Philanthropy Fellows Conference in Amsterdam.

Hesselbein's unique management philosophy and style has been cited in several books including Megatrends for Women (1992), Managing the Nonprofit Organization (1990), The Female Advantage (1990), and Toward Affirmative Action (1989).

Frances Hesselbein's talk is hosted by the Kravis Leadership Institute as part of their speaker series titled, Women Leaders: Meeting Challenges, Making Changes.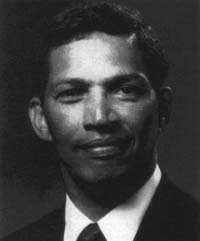 Leadership and Education: Love'em and Lead'em
JOHN STANFORD
MONDAY, APRIL 6, 1998
Superintendent John Stanford, of the Seattle Public School District, brings an unusual background to this very difficult and most essential job. He served as an officer in the U.S. Army for 30 years, retiring at the rank of major general. During his successful career, he was assigned to the Pentagon staff during both the Carter and Reagan Administrations. Following his military career, Stanford served as Fulton County Manager (the Atlanta metropolitan area), where he managed an employee force of 5,000 and an annual budget of a billion dollars. Thus, Stanford brings to his leadership role in the education system the supreme organizational skills of a U.S. military officer, and the broad administrative skills gleaned from leading the day-to-day operations of one of America's largest cities.

A brief look at what Mr. Stanford has done in Seattle highlights the power an individual still has in the midst of a confusing bureaucracy. Under his leadership, Seattle public schools have set quantifiable targets for student achievement, and defined exit standards for students in grades 5, 8, and 11. His city-wide Reading Campaign to make every child a reader has become a national model. The district has emphasized the importance of safe schools by providing all high school students with identification badges, expanding the district's antiviolence curriculum, and emphasizing peer mediation and intervention strategies. School district/corporate compacts in environmental education, school-to-work, the arts, and technology have been created. Test scores are up, and the student dropout rate is down.

John Stanford's appearance at the Athenaeum is sponsored by the Kravis Leadership Institute, for which he has served on the Board of Governors since September 1997.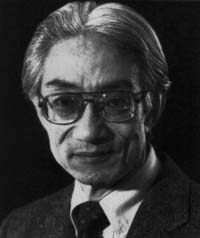 Critical Issues in Korean Literary History
PETER LEE
WEDNESDAY, APRIL 8, 1998
Professor Peter Lee of the University of California, Los Angeles, a distinguished literary scholar, will present a rare and exciting look into the reconstruction of a national Korean literary heritage. The dominant social class in traditional Korea sustained the hegemony of the Confucian canon by adopting the Chinese writing system and by emulating the Chinese literary traditions. In an attempt to recover national and popular literature, however, the literary historian in modern Korea began to construct a new canon through the resurrection and revaluation of neglected texts written in the vernacular Korean language. Lee will discuss in detail how this new canon has come about and will comment on the significance of this event as a catalyst for facilitating future investigations into the relationship between these primary and secondary canons of Korean literature.

Lee holds a Ph.D. from Ludwig-Maximilian University in Munich, Germany. He has been a Fellow with the National Endowment for the Humanities, the John Simon Guggenheim Memorial Foundation, and the American Council of Learned Societies. He has also taught at Columbia University, the University of California at Berkeley and the University of Hawaii. His scholarly publications include Pine River and Lone Peak: An Anthology of Three Choson Dynasty Poets (1991), Songs of Flying Dragons (1975), The Silence of Love: Twentieth Century Korean Poetry (1980), and Celebration of Continuity: Themes in Classic East Asian Poetry (1979).

Professor Lee's lecture is sponsored by the Keck Center for International and Strategic Studies and the Modern Languages Department at Claremont McKenna College and the Asian Studies Program at Pomona College.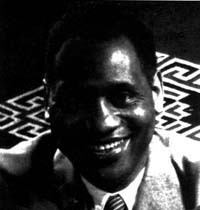 A Centennial Retrospective: The Impact of Paul Robeson in the Americas
STERLING STUCKEY
THURSDAY, APRIL 9, 1998
Paul Robeson was extremely gifted as an athlete, actor, author, attorney, a scholar and concert singer. He won a scholarship to Rutgers University, where he was elected Phi Beta Kappa and was valedictorian of his class. He also achieved All-American honors in football and excelled in baseball, basketball and track. After graduation, Robeson earned a law degree from Columbia University. But he soon discovered a passion for the stage, giving 296 performances as Othello on Broadway. Robeson spoke and performed in over twenty languages and dialects, and became a spokesman throughout the world against exploitation, injustice, and racism. His attacks on injustice and racism in the United States became an international embarrassment to the government; hence, his accomplishments have been mired in controversy.

Sterling Stuckey completed his undergraduate studies at Northwestern University, then taught elementary and high school in Chicago for six years. He later earned a doctoral degree in history from Northwestern where he was appointed Associate Professor in 1971 and Professor in 1977. Stuckey was Hill Foundation Visiting Research Professor at the University of Minnesota; Visiting Research Fellow at UCLA; Andrew Mellon Fellow at the Center for Advanced Study in the Behavioral Sciences, Stanford; Senior Fellow at the Smithsonian Institution, Washington, D.C.; and Fellow at the Humanities Research Institute, UC Irvine. Stuckey has published a number of books including Slave Culture: Nationalist Theory and the Foundations of Black America (1987), and Going Through the Storm: The Influence of African American Art in History (1994).

Sterling Stuckey's appearance at the Athenaeum is sponsored by the Athenaeum and the Office of Black Student Affairs in honor of the 100th anniversary of Paul Robeson's birthday.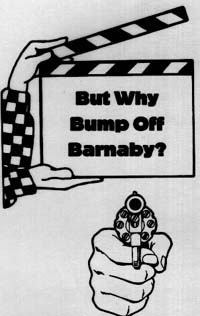 Dinner Theater
But Why Bump Off Barnaby? by Rick Abbot
Thursday-Saturday, April 2-4, 1998
Dinner and Play- 6:00 p.m.
Under the Lights' newest comedy But Why Bump Off Barnaby? (1981) comes from the farcical mind of Rick Abbot. It's a comedy that combines suspense, intrigue, murder, and off-the-wall humor. The play is set in Marlgate, the great ancestral home of the Leducs. Great-grandfather Farlow has created a tontine amongst his relatives. This tontine provides the focal point for the antics in the play. Orion Leduc (Charles Johnson-Gutter) has called together all the members of the family with a mysterious letter regarding the tontine. The relatives arrive at the mansion, and everything seems normal, until, yep you guessed it. . . a murder takes place. Barnaby Folcey (Chris Monjoy), the poorest member of the family, is mysteriously murdered and everyone is a suspect. This event sets off a series of disappearances and madcap hijinks. Who is the murderer? Is it Magnolia (Nikki Smythe), a young snip of a maid, or Medkins (Rob Martin), a seemingly straightlaced butler? Is it Lady Barbara Fenwick (Cami Griep), a deaf old foof, or Cleo Barton (Hillary Slater), a glamorous movie star? Is it Rosalind Barstow (Christina Cheshier), Orin's not-so-sweet secret fiancee, or Mr. Barnsdale, (Bad Brad Wease) the family's old private tutor? Is it Dora Dunstock (Kiki Gaffney), Orion's lovably dim-witted niece, or Jeff Barnett (Chris Rogers), a mysterious young man Cleo Barton met at a local pub? Is it Director Eleanor Lan, the director of the production, or Assistant Director Hadley Beeman, the assistant director of the production? You'll just have to wait and see Under the Lights' hilarious new farce. Tony Pennay will be there ... will you?

Seating will be festival style and is limited. Sign up as soon as possible, circling your first, second, and third choice of date. You will be contacted if your first choice reservation date is unavailable.
STUDENT ART SHOW
BRANDI PAGE '00
ANDY ZHANG '98
THURSDAY, APRIL 9, 1998 3:00-4:30 p.m.
You won't want to miss this afternoon tea! In addition to indulging in Chef Sid's exotic pastries, you will be treated to the artistic creations of two multitalented CMC students.

Brandi Paige, a sophomore psychobiology major from the Los Angeles area is an accomplished violinist, runner on the cross country and track teams at CMC, equestrian-and artist. Her love of horses has led her to study and create interpretive sculptures that capture the energy, expression, and detail of "The Horse."
Andy Zhang enjoys sketching as well as music and sports in his leisure time. Andy is a senior biology-chemistry major from Alhambra and will be starting medical school in the fall.

Tea will be held in the Security Pacific room this afternoon.