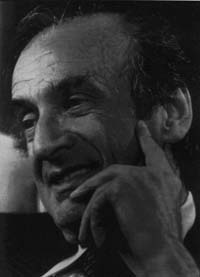 Remembering the 20th Century on the Eve of the New Millennium
ELIE WIESEL
SUNDAY, MARCH 29, 1998 2:00 p.m.
BRIDGES AUDITORIUM
450 COLLEGE WAY

Nobel Peace Prize winner and Boston University Professor Elie Wiesel has worked on behalf of oppressed people for much of his adult life. His personal experience of the Holocaust has led him to use his talents as an author, teacher, and storyteller to defend human rights and peace throughout the world.

A native of Sighet, Transylvania (Romania), Wiesel and his family were deported by the Nazis to Auschwitz when he was fifteen years old. His mother and younger sister perished there; his two older sisters survived. Wiesel and his father were later transported to Buchenwald, where his father died. After the war, Wiesel studied in Paris and later became a journalist in that city; yet, he remained silent about what he had endured as an inmate in the death camps. During an interview with French writer Francois Mauriac, Wiesel was persuaded to end that silence and he subsequently wrote Night. Since its publication in 1958, it has been translated into twenty-five languages and millions of copies have been sold.

A devoted supporter of Israel, Wiesel has also defended the cause of Soviet Jews, Nicaragua's Miskito Indians, Argentina's "disappeared," Cambodian refugees, the Kurds, South African apartheid victims, famine victims in Africa, and more recently the victims and prisoners in the former Yugoslavia. His efforts have earned him the Presidential Medal of Freedom, the U.S. Congressional Gold Medal and the Medal of Liberty Award, the rank of Grand Officer in the French Legion of Honor, and, in 1986, the Nobel Peace Prize. He has received more than ninety honorary degrees from institutions of higher learning.

Wiesel has written over forty books including A Beggar in Jerusalem (1978), The Testament (1982), The Fifth Son: A Novel (1985), and All Rivers Run to the Sea: Memoirs (1995).

Since 1976, Wiesel has been the Andrew W. Mellon Professor in the Humanities at Boston University where he also holds the title of University Professor.

Elie Wiesel's address at Bridges Auditorium is sponsored by the Marian Miner Cook Athenaeum, the Res Publica Society of Claremont McKenna College, and the Family of Benjamin Z. Gould Center for Humanistic Studies as part of the Athenaeum speaker series Questions of Civilization.

The lecture by Elie Wiesel is free and open to all. No reservations are required.