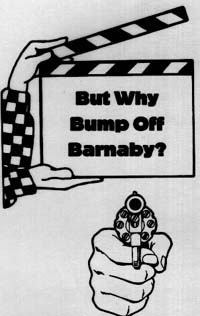 Dinner Theater
But Why Bump Off Barnaby? by Rick Abbot
Thursday-Saturday, April 2-4, 1998
Dinner and Play- 6:00 p.m.
Under the Lights' newest comedy But Why Bump Off Barnaby? (1981) comes from the farcical mind of Rick Abbot. It's a comedy that combines suspense, intrigue, murder, and off-the-wall humor. The play is set in Marlgate, the great ancestral home of the Leducs. Great-grandfather Farlow has created a tontine amongst his relatives. This tontine provides the focal point for the antics in the play. Orion Leduc (Charles Johnson-Gutter) has called together all the members of the family with a mysterious letter regarding the tontine. The relatives arrive at the mansion, and everything seems normal, until, yep you guessed it. . . a murder takes place. Barnaby Folcey (Chris Monjoy), the poorest member of the family, is mysteriously murdered and everyone is a suspect. This event sets off a series of disappearances and madcap hijinks. Who is the murderer? Is it Magnolia (Nikki Smythe), a young snip of a maid, or Medkins (Rob Martin), a seemingly straightlaced butler? Is it Lady Barbara Fenwick (Cami Griep), a deaf old foof, or Cleo Barton (Hillary Slater), a glamorous movie star? Is it Rosalind Barstow (Christina Cheshier), Orin's not-so-sweet secret fiancee, or Mr. Barnsdale, (Bad Brad Wease) the family's old private tutor? Is it Dora Dunstock (Kiki Gaffney), Orion's lovably dim-witted niece, or Jeff Barnett (Chris Rogers), a mysterious young man Cleo Barton met at a local pub? Is it Director Eleanor Lan, the director of the production, or Assistant Director Hadley Beeman, the assistant director of the production? You'll just have to wait and see Under the Lights' hilarious new farce. Tony Pennay will be there ... will you?

Seating will be festival style and is limited. Sign up as soon as possible, circling your first, second, and third choice of date. You will be contacted if your first choice reservation date is unavailable.