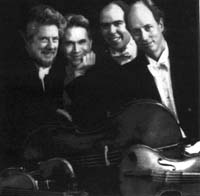 Manhattan String Quartet: Quartets by Bela Bartok and Leos Janacek
KENNETH FREED, violin
CHRIS FINCKEL, cello
JOHN DEXTER, viola
ERIC LEWIS, violin
TUESDAY, MARCH 31, 1998
Described by the Boston Globe as a national treasure, the Manhattan String Quartet has for the past 27 years charmed audiences throughout the United States, Europe, Canada, and Mexico. Regarded as the preeminent interpreter of the 15 string Quartets by Dmitri Shostakovich, the Manhattan String Quartet had recently presented the complete cycle in New York City at the Lincoln Center for the Performing Arts Great Performers Series, at the Town Hall, and on French National Radio. The ensemble's traversal of the Shostakovich cycle was the only chamber music recording to make Time magazine's Best of 1991 classical list.

After a series of concerts in Moscow and Leningrad in the fall of 1985, the quartet became the first American classical ensemble to give a full tour of the Soviet Union under the new cultural agreements. The first sold-out series of performances in 1986 was followed by an equally successful tour in 1989.

The Manhattan String Quartet has been Quartet-in-Residence at Colgate University for the past twelve years, and has also held similar posts at the Manhattan School of Music, Cornell University, Grinnell College, and the Corfu Festival in Greece. From 1981 to 1988, the Manhattan String Quartet was the resident ensemble at Connecticut's Music Mountain Festival where they gave weekly concerts on the radio to a national audience of millions and administered innovative chamber music programs for young professional string players and amateurs.

In their Athenaeum appearance, the Quartet will perform Quartet No. 2, Op. 17, by Bela Bartok and Quartet No. 2, "Intimate Letters," by Leos Janacek. This performance is part of the Stotsenberg Chamber Music Series, made possible by a generous gift from Dorothy and Ed Stotsenberg, friends of Claremont McKenna College.