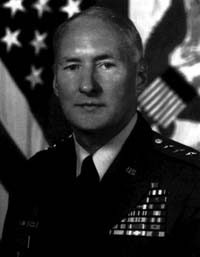 The U.S. Army in Europe
WILLIAM CROUCH '63
FRIDAY, APRIL 3, 1998 12:15 p.m.
General William Crouch, Vice Chief of Staff for the U.S. Army, will present a talk on the changing role of the U.S. military in post-Cold War Europe. Since the collapse of the Soviet Union, the United States has reduced the number of service personnel from 215,000 to 65,000 individuals and has closed over 600 facilities in Europe. General Crouch will discuss the strategic significance of the restructuring of the U.S. military presence in Europe and the nature of involvement of U.S. forces in achieving peace and stability on the European Continent.

Nearly a third of General Crouch's 34 years of Army service was in Europe, and his latest command tour included concurrent duty as Commander, Allied Land Forces, Central Europe (LANDCENT); and Commander, NATO Peace Implementation Force, Bosnia-Herzegovina.

An alumnus of CMC, General Crouch is also a graduate of the U.S. Army Command and General Staff College and the U.S. Army War College. His decorations include the Defense Distinguished Service Medal, the Distinguished Service Medal, the Silver Star, the Legion of Merit, and the Bronze Star.

Please join the Keck Center for International and Strategic Studies as it hosts General Crouch as the luncheon keynote speaker for its conference on "U.S. Relations with Europe." Lunch will be served at 11:45 a.m. General Crouch will speak at 12:15 p.m. The conference is all day Friday, April 3, in the Bauer Center Founders Room. For more information about the conference, please contact the Keck Center (909) 621-8213.