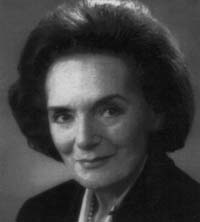 Challenges in Managing the Nonprofit Organization
FRANCES HESSELBEIN
MONDAY, APRIL 6, 1998 12:15 p.m.
Frances Hesselbein is the President and Chief Executive Officer of the Peter F. Drucker Foundation for Nonprofit Management and is Chair of the Board of Governors of the Josephson Institute for the Advancement of Ethics.

Hesselbein has been honored by presidents Bush and Clinton for her work in community service; she holds twelve Honorary Doctoral Degrees and is the winner of nine major awards, including the Distinguished Community Service Award from Mutual of America Life Insurance Company and the National Professional Leadership Award from the United Way of America. She also holds the distinguished United States of America Presidential Medal of Freedom.

Featured in numerous publications, her work as Chief Executive Officer of the Girl Scouts of America is published as a case study by the Harvard Business School. She appeared on the covers of Business Week and Savvy magazines as an example of managerial excellence, and Fortune for her leadership experience.

Her international work includes acting as Chair to the world conference in New Delhi on the Mutual Appreciation of Eastern and Western Cultural Values, Chair of the Salzburg Seminar on Managing Non-Governmental Organizations, and speaker at the Sixth Annual Johns Hopkins International Philanthropy Fellows Conference in Amsterdam.

Hesselbein's unique management philosophy and style has been cited in several books including Megatrends for Women (1992), Managing the Nonprofit Organization (1990), The Female Advantage (1990), and Toward Affirmative Action (1989).

Frances Hesselbein's talk is hosted by the Kravis Leadership Institute as part of their speaker series titled, Women Leaders: Meeting Challenges, Making Changes.