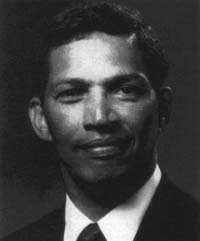 Leadership and Education: Love'em and Lead'em
JOHN STANFORD
MONDAY, APRIL 6, 1998
Superintendent John Stanford, of the Seattle Public School District, brings an unusual background to this very difficult and most essential job. He served as an officer in the U.S. Army for 30 years, retiring at the rank of major general. During his successful career, he was assigned to the Pentagon staff during both the Carter and Reagan Administrations. Following his military career, Stanford served as Fulton County Manager (the Atlanta metropolitan area), where he managed an employee force of 5,000 and an annual budget of a billion dollars. Thus, Stanford brings to his leadership role in the education system the supreme organizational skills of a U.S. military officer, and the broad administrative skills gleaned from leading the day-to-day operations of one of America's largest cities.

A brief look at what Mr. Stanford has done in Seattle highlights the power an individual still has in the midst of a confusing bureaucracy. Under his leadership, Seattle public schools have set quantifiable targets for student achievement, and defined exit standards for students in grades 5, 8, and 11. His city-wide Reading Campaign to make every child a reader has become a national model. The district has emphasized the importance of safe schools by providing all high school students with identification badges, expanding the district's antiviolence curriculum, and emphasizing peer mediation and intervention strategies. School district/corporate compacts in environmental education, school-to-work, the arts, and technology have been created. Test scores are up, and the student dropout rate is down.

John Stanford's appearance at the Athenaeum is sponsored by the Kravis Leadership Institute, for which he has served on the Board of Governors since September 1997.