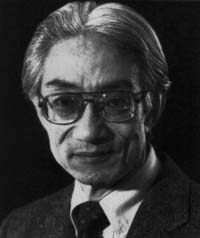 Critical Issues in Korean Literary History
PETER LEE
WEDNESDAY, APRIL 8, 1998
Professor Peter Lee of the University of California, Los Angeles, a distinguished literary scholar, will present a rare and exciting look into the reconstruction of a national Korean literary heritage. The dominant social class in traditional Korea sustained the hegemony of the Confucian canon by adopting the Chinese writing system and by emulating the Chinese literary traditions. In an attempt to recover national and popular literature, however, the literary historian in modern Korea began to construct a new canon through the resurrection and revaluation of neglected texts written in the vernacular Korean language. Lee will discuss in detail how this new canon has come about and will comment on the significance of this event as a catalyst for facilitating future investigations into the relationship between these primary and secondary canons of Korean literature.

Lee holds a Ph.D. from Ludwig-Maximilian University in Munich, Germany. He has been a Fellow with the National Endowment for the Humanities, the John Simon Guggenheim Memorial Foundation, and the American Council of Learned Societies. He has also taught at Columbia University, the University of California at Berkeley and the University of Hawaii. His scholarly publications include Pine River and Lone Peak: An Anthology of Three Choson Dynasty Poets (1991), Songs of Flying Dragons (1975), The Silence of Love: Twentieth Century Korean Poetry (1980), and Celebration of Continuity: Themes in Classic East Asian Poetry (1979).

Professor Lee's lecture is sponsored by the Keck Center for International and Strategic Studies and the Modern Languages Department at Claremont McKenna College and the Asian Studies Program at Pomona College.