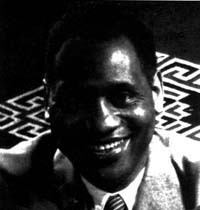 A Centennial Retrospective: The Impact of Paul Robeson in the Americas
STERLING STUCKEY
THURSDAY, APRIL 9, 1998
Paul Robeson was extremely gifted as an athlete, actor, author, attorney, a scholar and concert singer. He won a scholarship to Rutgers University, where he was elected Phi Beta Kappa and was valedictorian of his class. He also achieved All-American honors in football and excelled in baseball, basketball and track. After graduation, Robeson earned a law degree from Columbia University. But he soon discovered a passion for the stage, giving 296 performances as Othello on Broadway. Robeson spoke and performed in over twenty languages and dialects, and became a spokesman throughout the world against exploitation, injustice, and racism. His attacks on injustice and racism in the United States became an international embarrassment to the government; hence, his accomplishments have been mired in controversy.

Sterling Stuckey completed his undergraduate studies at Northwestern University, then taught elementary and high school in Chicago for six years. He later earned a doctoral degree in history from Northwestern where he was appointed Associate Professor in 1971 and Professor in 1977. Stuckey was Hill Foundation Visiting Research Professor at the University of Minnesota; Visiting Research Fellow at UCLA; Andrew Mellon Fellow at the Center for Advanced Study in the Behavioral Sciences, Stanford; Senior Fellow at the Smithsonian Institution, Washington, D.C.; and Fellow at the Humanities Research Institute, UC Irvine. Stuckey has published a number of books including Slave Culture: Nationalist Theory and the Foundations of Black America (1987), and Going Through the Storm: The Influence of African American Art in History (1994).

Sterling Stuckey's appearance at the Athenaeum is sponsored by the Athenaeum and the Office of Black Student Affairs in honor of the 100th anniversary of Paul Robeson's birthday.