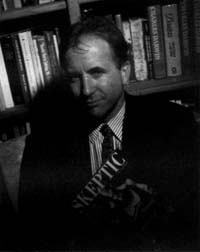 Why People Believe Weird Things: Pseudoscience, Superstition, and Other Confusions of Our Time
MICHAEL SHERMER
MONDAY, APRIL 13, 1998 12:15 p.m.
Michael Shermer, publisher of Skeptic magazine and director of the Skeptics Society, will speak about his new book, Why People Believe Weird Things: Pseudoscience, Superstition, and Other Confusions of Our Time (1997), during a luncheon address at the Athenaeum. Shermer will explain ESP and UFOs, contemplate cults and conspiracy theories, compare creationism and Holocaust denial, and link the witch crazes of the 16th century to the modern sex abuse panics such as the McMartin case and the recovered memory movement. Summarizing his years investigating extraordinary claims, Shermer will speculate on the psychology of belief, showing that there may very well be evolutionary reasons for why people believe weird things.

In his foreword to Why People Believe Weird Things, Harvard paleontologist Stephen Jay Gould wrote: "Michael Shermer, as head of one of America's leading skeptic organizations, and as a powerful activist and essayist in the service of this operational form of reason, is an important figure in American public life."

Shermer has participated in numerous TV shows and documentaries, including Donahue, Oprah, Unsolved Mysteries, Politically Incorrect, Charlie Rose, and Tom Snyder, as well as on Discovery and The Learning Channel. Shermer has also written numerous cycling books based on a 10-year professional career as an ultramarathon cyclist and competitor in the 3,000-mile, nonstop, transcontinental Race Across America.

Shermer received a Ph.D. in the history of science from Claremont Graduate University. He is currently an adjunct professor in the Cultural Studies Program at Occidental. This lecture is cosponsored by the department of psychology at CMC.