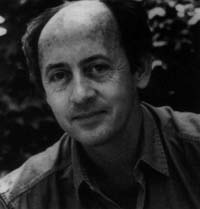 A Poetry Reading
BILLY COLLINS
TUESDAY, APRIL 14, 1998
Luring his readers into the poem with humor, Mr. Collins leads them unwittingly into deeper, more serious places.

-The New York Times

Billy Collins's poems are well known for their ability to balance themselves on a knife edge between humor and seriousness, wit and sublimity. Whether his tone is funny or elegiac, the atmosphere of his poems is always hospitable. "I start out on a sociable, welcoming note, standing at the door to the poem," Collins said recently.

Collins is the author of five books of poetry, including The Art of Drowning (1995), The Apple That Astonished Paris (1988), and Questions About Angels (1991), which was selected by Edward Hirsch for the National Poetry Series. Collins's poetry has appeared in anthologies, textbooks, and a variety of periodicals, including Poetry, American Poetry Review, American Scholar, Harper's, Pari's Review, and The New Yorker.

He has received fellowships from the New York Foundation for the Arts, the National Endowment for the Arts and the Guggenheim Foundation. His work has been featured in the Pushcart Prize anthology and The Best American Poetry for 1992, 1993, and 1997. In 1992, he was chosen by the New York Public Library to serve as a "Literary Lion." Collins is professor of English at Lehman College, CUNY.

You are cordially invited to join Billy Collins in launching the Athenaeum's celebration of "April, the Cruelest Month."