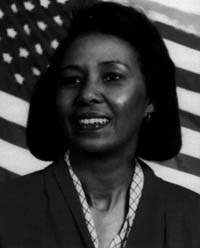 Women and Minorities in Government
YVONNE BRATHWAITE BURKE
MONDAY, APRIL 20, 1998
In 1972, Yvonne Brathwaite Burke was the first woman elected to Congress in 20 years, and the first African American woman ever elected to the U.S. House of Representatives from California. She now serves on the L.A. County Board of Supervisors for the Second District. She is a member of the L.A. CARE board, a member of the L.A. Coliseum Commission, and a member of the Metropolitan Transit Authority.

Legislation sponsored by Mrs. Burke has emphasized equal opportunity for diverse groups. A portion of the bill for Equal Opportunity for Displaced Homemakers was amended and included in the 1978 Comprehensive Employment and Training Act. It provided federally subsidized employment and training for persons who had previously worked in the home without compensation, and were left without adequate economic support through death or divorce. The "Burke Amendment" also bound federal pipeline funds to an affirmative action program, resulting in the awarding of $312 million in contracts to women-and minority-owned businesses.

As an assemblywoman, Mrs. Burke authored legislation that benefited California's indigent children, residents of nursing, convalescent homes and orphanages, and the victims of "eminent domain," which is used by local government for urban renewal and expansion projects.

Supervisor Burke has received numerous honors and awards over a career that spans three decades. Time named her one of "America's 200 Future Leaders," and she was selected as "Woman of the Year" by both the Los Angeles Times and UCLA.

This talk by Yvonne Brathwaite Burke is hosted by the Kravis Leadership Institute as part of their speaker series titled Women Leaders: Meeting Challenges, Making Changes.