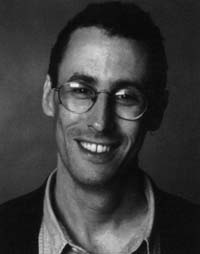 The Intelligent Homosexual's Guide to Capitalism and Socialism with a Key to the Scriptures
TONY KUSHNER
THURSDAY, APRIL 23, 1998
The entire work is the broadest, deepest, most searching American play of our time.

-Newsweek on Angels in America

Tony Kushner intends his plays to be part of a greater political movement; his work is concerned with moral responsibility during politically repressive times. A modern-day Aristophanes, Kushner has a way of bringing the lofty into the sphere of the approachable by creating everyday characters that collide both comically and tragically on stage.

Because he respects the intelligence of both students and the audience, Kushner speaks about weighty philosophical and political topics without being didactic or patronizing.

Kushner's seven-hour, two-part, Broadway production of Angels in America: A Gay Fantasia on National Themes (1993) is a masterful epic. It has received a Pulitzer Prize, two Tony awards, two Drama Desk awards, the Evening Standard award, the New York Critics Circle award, the Los Angeles Drama Critics Circle award, and the LAMBDA Literary Award for Drama. He has also written A Bright Room Called Day (1985), Slavs!: Thinking About the Longstanding Problems of Virtue and Happiness (1994), and adaptations of Goethe's Stella (1985), Brecht's The Good Person of Setzuan (1994), Ansky's The Dybbuk (1998), and Corneille's The Illusion (1988). His next play, Henry Box Brown or the Mirror of Slavery (1997), will be presented at the Royal National Theatre in London.