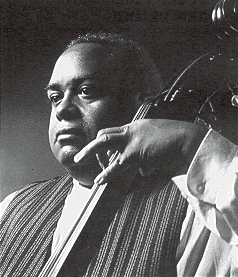 Drummond Plays Drummond: A Concert of Original Works
RAY DRUMMOND '68, bass
CRAIG HANDY, saxophone
PAUL NAGEL, piano
SHERMAN FERGUSON, drums
THURSDAY, SEPTEMBER 10, 1998
Internationally acclaimed bassist, composer, and Arabesque recording artist Ray Drummond is Artist-in- Residence for the 41st Annual Monterey Jazz Festival this month, where he will premiere a commissioned suite. "My writing comes from a couple of streams," explains Drummond. "It's as if they're two separate types of music that on the surface don't appear complementary: neo-bop and a percussive Afticanized style." Drummond notes that he wasn't fully aware of how strong the African component of his music was until he worked with famed percussionist Mor Thiam. "He's not rigid like many African-based musicians. His loose approach to traditional beats led me into a serious process of self-discovery where the unconscious became the conscious," states Drummond.

During his junior year at CMC Drummond was elected student body president. An activist on campus, he wrote his senior thesis on "Black Power and the Rise of Cultural Imperialism." Drummond, along with a handful of student musicians and jazz enthusiasts in Claremont, founded the "Jazz Society." Following graduation, Drummond attempted to combine careers as business executive by day and jazz musician at night but eventually realized that jazz was his calling. Based in New York for the past 21 years, Drummond is constantly in demand and has earned the reputation as one of the finest bass players in the world.

Drummond has previously performed at the Athenaeum to large and appreciative audiences. On this occasion he has assembled a quartet of distinguished jazz musicians to present a concert of original compositions-a rare and wonderful opportunity that you won't want to miss.

Dinner reservations are for CMC persons only. The performance at 6:45 p.m. is open to all.