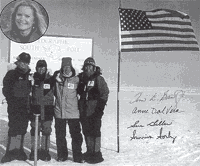 The Global Importance of Antarctica
SUNNIVA SORBY
MONDAY, SEPTEMBER 28, 1998
In the winter of 1992-93, Sunniva Sorby made history as one of the four team members of the American Women's Antarctic Expedition. The team skied for 67 days and hauled 200-pound sleds into head winds of up to 80 miles per hour to become the first women's team to reach the South Pole on foot. Since her initial expedition to the South Pole, Sorby has been planning a return trip to Antarctica, this time to complete a 1600-mile crossing.

Born in Tonsberg, Norway, Sorby grew up in Montreal where she attended Bishop's University and specialized in economics. She later moved to the United States and currently resides in San Diego. Sorby has extensive outdoor experience, teaching backcountry navigation, winter camping and survival, and backpacking. She is presently a lead instructor for Adventure 16 Wilderness Outings in San Diego and the Scholarship Chair for the Pacific Women's Sports Foundation. Sorby is also a lead instructor and member of the board of directors for the Institute of Alternative Opportunities, a nonprofit corporation designed to provide outdoor educational programs for adults and children.

An avid athlete, Sorby has run eight marathons, enjoys long distance kayaking, trail running, backcountry skiing, biking, and backpacking. A motivational and educational speaker, Sorby has also spent time as a lecturer on board marine expeditions to the High Arctic of Canada, Greenland, and the Antarctic Peninsula.

This lecture and slide presentation by Sunniva Sorby is jointly sponsored by the Roberts Environmental Center, in conjunction with the dedication of Roberts Hall, both made possible through the generosity of George R. Roberts '66 and his wife, Leanne.