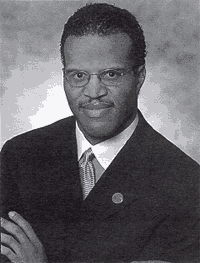 HOPE for the Community
JOHN BRYANT
TUESDAY, SEPTEMBER 29, 1998
Recognized by Time as "One of America's 50 Most Promising Leaders of the Future," John Bryant, entrepreneur and graduate cum laude of the streets of South Central, is a leading advocate for the improvement of South Central Los Angeles.

After the 1992 Los Angeles riots Bryant took positive steps to help the community rebuild. He organized the first Banker's Bus Tour to show bankers and CEOs the reality of South Central. Then, by bringing together business, community and government leaders, he helped to form Operation HOPE, America's first nonprofit investment banking organization solely committed to the social and economic revitalization of urban, inner-city, and under-served communities.

Bryant's journey to become a leader in the financial industry is far different from the path taken by many CMC students. He attended the Hollywood Professional School and after a few television roles as a teenager, he waited tables in a Malibu restaurant where he met his business mentor. Bryant talked his way into a job with the investment firm of Wade, Cotter & Company, where a talent for selling loans jump started his business career. Eventually, he started his own financial consulting firm, Bryant Companies.

Presidents Reagan and Bush have cited Bryant for his outstanding business and community work. He has also been selected twice as one of America's Top 100 Young Entrepreneurs. The Kravis Leadership Institute is honored to present John Bryant as a model of leadership.