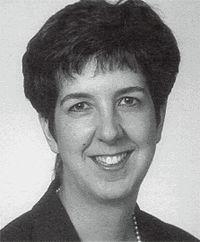 The Efficacy of Early Childhood Intervention
LYNN KAROLY '83
WEDNESDAY, SEPTEMBER 30, 1998
Do investments in early childhood intervention pay off? This is the central question RAND researcher and CMC alumnus Lynn Karoly sought to answer as she led an interdisciplinary team which investigated the costs and benefits of early childhood intervention programs such as Head Start and Perry Preschool. This research, the first comprehensive study of its kind, has attracted national attention. The Santa Monica-based RAND Corporation found that investments in the first five years of childhood yield substantial and lasting benefits not only to the children and their families but to their communities.

Karoly is a 1983 summa cum laude graduate of Claremont McKenna College with degrees in economics and mathematics. She credits CMC professors Janet Myhre and Susan Feigenbaum with inspiring her to pursue a Ph.D. degree in economics, which she received from Yale University in 1988.

Since completing her education, Karoly has worked at the RAND Corporation. Currently, she is the senior economist and heads the Labor and Population Program. She also serves as the training director for the RAND Postdoctoral Research Programs in the Study of Aging and in Population Research and is on the faculty of the RAND Graduate School of Policy Studies, the largest policy Ph.D. program in the country. Karoly has also maintained her relationship with CMC by joining the Board of Trustees in 1994 as its first alumna member.

Lynn Karoly met her husband, Timothy Safford '81, when both were student employees at the Athenaeum. Please join in welcoming back to the Athenaeum one of CMC's distinguished alumna as the second speaker in the series America's Children.