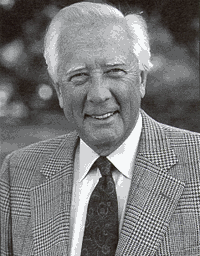 History as a Source of Strength
DAVID McCULLOUGH
WEDNESDAY, OCTOBER 14, 1998
A master of narrative history, David McCullough is the author of many best-selling books on American history, including the splendid biography, Truman (1992), which was awarded the Pulitzer Prize in 1993. His research is wide ranging, from The Johnstown Flood (1968) to The Great Bridge (1972), the story of the construction of the Brooklyn Bridge, The Path Between the Seas (1977), about the building of the Panama Canal, and Mornings on Horseback (1981), a biography of the young Theodore Roosevelt. McCullough is currently writing a book on the interwoven lives of John and Abigail Adams and Thomas Jefferson.

In addition to the Pulitzer, McCullough has received the National Book Award (twice), the National Book Foundation's Distinguished Contribution to American Letters Award, the Charles Frankel Prize of the National Endowment for the Hurnanities, the Guggenheim Fellowship, and the Harry S. Truman Award for Public Service.

McCullough is a member of the American Academy of Arts and Sciences and he holds numerous honorary degrees.

These honors salute a multifaceted career devoted to the study of history, literature, and the human achievement. McCullough has taught at Cornell, Dartmouth, and Wesleyan Universities. He hosts the PBS series The American Experience and narrated Ken Burns' The Civil War and other television documentaries. He has served as president of the Society of American Historians and is a founding member of Protect Historic America.

It is a special pleasure to have David McCullough return to Claremont McKenna College to inaugurate the William F. Podlich Distinguished Visitors Program. This program is generously endowed by CMC alumnus and trustee William F. Podlich '66, whose aim is to enrich the college intellectually by bringing preeminent figures in scholarship, business, and public affairs to campus for extended visits. Under these auspices, the CMC history department will host three renowned guests, of whom McCullough is the first.

Dinner reservations are for members of the CMC community only. The 6:45 p.m. lecture is open to all, no reservation required.