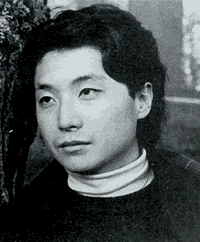 A Reading
CHANG-RAE LEE
THURSDAY, NOVEMBER 5, 1998
Chang-rae Lee is one of the most interesting contemporary Asian-American writers. Born in Seoul, he immigrated to the United States at the age of three. Educated at Phillips Exeter Academy, Yale College, and the University of Oregon, he is presently Professor of English and Director of the Creative Writing Program at Hunter College, one of the City Colleges in New York.

Lee is best known book is Native Speaker (1995), which won the 1995 PEN/Hemingway Prize as well as the American Book Award. He is a frequent contributor of nonfiction articles to The New Yorker, the New York Times Magazine, Granta, and other journals.

The well-known Asian American poet Ganett Hongo wrote of Native Speaker, "Every once in a while, someone writes about a great long note of trouble, something they've been thinking about a long time, and that long note of trouble makes music; that Chang-rae Lee." Library Journal noted that the book was "a first novel of impressive poetic and psychological accomplishment."

Lee's second book, Black Flag, will be published by Riverhead books in 1999. At the Athenaeum he will read from new, unpublished work.

Chang-rae Lee comes to the Athenaeum as the final speaker in the series The State of Asian America: Identity, Politics, and Culture sponsored by the Gould Center for Humanistic Studies.