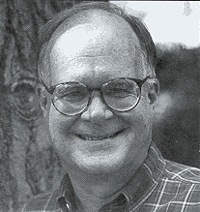 Saving Lake Baikal and Lake Tahoe: Is It Possible?
DOUGLAS WHEELER
TUESDAY, OCTOBER 27, 1998, 12:15 p.m.
Each summer, the Tahoe-Baikal Institute (TBI) holds its annual international environmental exchange at Lake Tahoe in California or Lake Baikal in Siberia. For ten weeks, an international team of students and young professionals from the U. S. and Russia come together to work with specialists and learn from policy- makers how to apply interdisciplinary approaches to environmental problem-solving. Focusing on the threatened environments of two of the world's unique lakes, the TBI helps prepare future leaders while seeking solutions to regional and global ecological problems. A long-time leader of efforts to save Lake Tahoe, Resources Secretary Doug Wheeler spent part of the past summer at Lake Baikal with the TBI.

A graduate of Hamilton College and Duke University School of Law, Wheeler was named California's seventh Secretary for Resources by Governor Pete Wilson in 1990. A long-time leader in the field of conservation, Wheeler has served as Vice President of the World Wildlife Fund and the Conservation Foundation. Previously, Wheeler served as Executive Director of the Sierra Club and was founder and president of the American Farmland Trust. He has also held executive positions with the National Trust for Historic Preservation and was Deputy Assistant Secretary of the Interior from 1972-77.

In his Athenaeum appearance, Wheeler will discuss the two unique regions of Lake Tahoe and Lake Baikal. Wheeler's luncheon address is sponsored by the Roberts Environmental Center as part of the series on Regional and Global Environmental Issues. Lunch will be served at 11:45 a.m. and the lecture begins at 12:15 p.m.