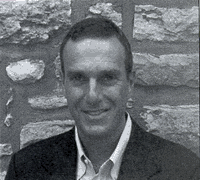 From Boardroom to Classroom
TOM BLOCH '76
TUESDAY, OCTOBER 27, 1998
People from all different walks of life have taken an active role in improving the quality of our nation's K- 12 education system. Of particular concern and interest is improving schools that serve at-risk youth. Many have advocated the use of vouchers or education tax credits so that parents, regardless of income level, could send their children to the school of their choice. Corporate America has become involved by investing millions of dollars in scholarships for deserving students.

Few have taken a more active and personal role in improving schools on the local level than Thomas Bloch, CMC class of '76. Following graduation from CMC, Bloch spent twenty years working at H&R Block, Inc., the world's largest tax preparation firm, which was founded by his father, Henry, and uncle, Richard. In 1981, he became president of the tax division. Ten years later, he became president of the company; the following year was appointed chief executive officer. Bloch left H&R Block in 1995 to spend more time with his family and to seek a different kind of personal fulfillment. For the past three years, Bloch has taught middle school math at St. Francis Xavier School, an urban Kansas City school that serves lower income and minority students. Bloch helped establish a professional development relationship with Rockhurst College. The partnership is designed to transform St. Francis Xavier into a model of urban school reform while also strengthening the teacher preparation program at Rockhurst College.

Bloch's career change and commitment to education reform has attracted national media attention. He has appeared on several television shows including NBC's Today, CBS This Morning, and Oprah. He has also been featured in many newspapers and magazines including The New York Times, Los Angeles Times, as well as People and Kiplinger. Please join the Athenaeum as our education reform series continues, and hear from a CMC alumnus who is a leader in improving our nation's schools.