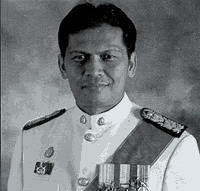 The Good News from Asia-After the Meltdown
SURIN PITSUWAN '72
THURSDAY, OCTOBER 29, 1998
Surin Pitsuwan came to the United States from Thailand in 1967 after winning an American Field Service Exchange Student Scholarship in 1967. He went on to graduate cum laude in political science from Claremont Men's College in 1972.

Surin later won a Rockefeller Fellowship to pursue his graduate studies at Harvard University. He spent one and a half years studying Arabic and researching Islamic philosophy and jurisprudence at the American University in Cairo, Egypt, returning to Harvard to complete his Ph.D. in 1982.

Upon his return to Bangkok, Thailand, Surin taught at Thammasart University and worked as a columnist for the two English daily newspapers, the Nation Review and the Bangkok Post.

Surin joined the Democrat Party in 1986 and won a Parliamentary seat from his native province, which he has kept during the past six general elections. In 1997 Surin was appointed Minister of Foreign Affairs, culminating his distinguished career in government service.

Again, the CMC community is fortunate to hear about the Asian economy from an expert and a political insider. Please join the Athenaeum in welcoming this distinguished alumnus back to Claremont.