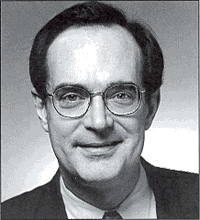 Science, Technology, and the Wealth of Nations
CHRISTOPHER DeMUTH
MONDAY, NOVEMBER 9, 1998
Christopher DeMuth is one of the nation's leading architects of political thought. As President of the
American Enterprise Institute (AEI) for Public Policy Research in Washington, D.C., DeMuth runs one of
the nation's preeminent think-tanks. AEI is actively involved in addressing some of the most pressing issues
of the day including the Microsoft dispute, the U.S. military presence in Bosnia, and social security
privatization.
DeMuth has been a Washington policy insider for years. Before coming to AEI in 1986, he was managing
director of Lexecon, Inc. an economics consulting firm; administrator of regulatory affairs for the Office of
Management and Budget under President Reagan; executive director for Reagan's Presidential Task Force
on Regulatory Relief; as well as a lecturer at the Kennedy School of Government and Director of the
Harvard Faculty Project on Regulation.
A lawyer by training, DeMuth's articles on government regulation and other topics have appeared in The
Public Interest, The Harvard Law Review, The Yale Journal on Regulation, The Wall Street Journal,
Commentary, and The American Enterprise.
In his lecture DeMuth will focus on the advancements in biotechnology and the disparity in economic
growth between the West and third world countries. DeMuth's evening at the Athenaeum is sponsored by
the Salvatori Center.