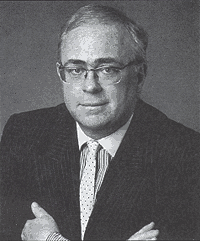 Crescit Cum Commercio Civitas
KEVIN STARR
TUESDAY, NOVEMBER 10, 1998
Author of Commerce and Civilization, Claremont McKenna College: The First 50 Years, 1946-1996 (1998), Kevin Starr is no stranger to CMC. In fact, his book is the culmination of his study of Claremont McKenna College commissioned on the occasion of CMC's 50th anniversary.

No stranger to the study of philosophy and history, Starr is currently serving as the State Librarian of California. He has published several books including Endangered Dreams: The Great Depression in California (1996)and Material Dreams: Southern California Through the 1920s (1990). He is now in the process of drafting War and Return: California to 1950. Starr has also been featured in numerous popular magazines, newspapers, and academic journals including the Los Angeles Times, The New Republic, Western History, and The Washington Post.

Starr has taught at prominent colleges and universities on both coasts. Currently, he is a professor at the School of Urban and Regional Planning at the University of Southern California.

Upon completion of his undergraduate studies at the University of San Francisco, Starr enlisted in the U.S. Army for a two year tour of duty in Sandhofen, Germany. Following his active duty, Starr went on to receive a doctorate degree in philosophy from Harvard University.

Kevin Starr's lecture is sponsored by the Res Publica Society of Claremont McKenna College.