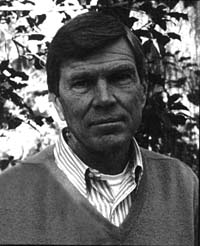 William F. Podlich Distinguished Visitor
Ethnic and Civic Nationalism in the Civil War: Was Blood Thicker Than Water?
JAMES McPHERSON
THURSDAY, JANUARY 21, 1999
James M. McPherson, a renowned historian of the Civil War, is the George Henry Davis Professor of American History at Princeton University. He is the author of Battle Cry of Freedom: The Civil War Era (1988), which won the 1989 Pulitzer Prize in history, as well as the Christopher Award and the Best Book Award of the American Military Institute. His many other books include The Struggle for Equality: Abolitionists and the Negro in the Civil War and Reconstruction (1964, winner of the Anisfield-Wolf Prize), The Negro's Civil War (1965), The Abolitionist Legacy (1975), Ordeal by Fire: The Civil War and Reconstruction (1982), Abraham Lincoln and the Second American Revolution (1992), and For Cause and Comrades: Why Men Fought in the Civil War (1997).

Born in North Dakota, McPherson received his B.A. from Gustavus Adolphus College and his Ph.D. from Johns Hopkins University. A member of the Princeton faculty since 1962, he has been awarded fellowships by the Guggenheim Foundation, the National Endowment for the Humanities, the Center for Advanced Study in the Behavioral Sciences, and the Huntington Library.

Few academic historians reach large public audiences but James McPherson has done so by combining rigorous scholarship with compelling narrative. His books on the Civil War show that military events were fundamentally social and political in their origins and effects; that the fighting and dying shaped this nation. He illuminates what Walt Whitman called "[t]he real war," which McPherson defines as "the experiences of the three million soldiers and the vicarious extensions of those experiences to their friends and families back home, who constituted almost the whole of the American people."

McPherson is the second of three guests that the Claremont McKenna College history department has invited to inaugurate the William F. Podlich Distinguished Visitors Program. This program is generously endowed by CMC alumnus and trustee William F. Podlich '66, whose aim is to enrich the college intellectually by bringing preeminent figures in scholarship, business and public affairs to campus for extended visits. James M. McPherson will speak twice at the Athenaeum. Sign up for each lecture separately on the Reservations page.
Prairie Lawyer on Trial: Lincoln as Commander-in- Chief
JAMES McPHERSON
WEDNESDAY, JANUARY 27, 1999