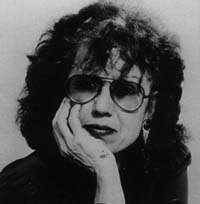 Beyond the Flower: The Evolution of a Feminist Artist
JUDY CHICAGO
WEDNESDAY, FEBRUARY 3, 1999
Judy Chicago is an artist, writer, and teacher whose work and philosophy have had a worldwide impact. For over three decades, Chicago has remained steadfast in her commitment to the power of art as a vehicle for intellectual transformation and social change and is known and respected as an artist and humanist whose work and life are a model for an enlarged definition of art. In the early seventies Chicago pioneered feminist art education with a unique program for women at Fresno State University. In 1971 she brought her program to the California Institute of the Arts in Valencia where, with artist Miriam Shapiro, she established the Feminist Art Program.

In her Athenaeum lecture and slide presentation Chicago will explore the development of her vision of what it means to be a feminist artist by focusing on "The Dinner Party: A Symbol of Our Heritage" (1979), "The Birth Project" (1985), and "The Holocaust Project: From Darkness into Light" (1993). Her renowned work "The Dinner Party," a multimedia installation that presents a symbolic history of women in Western civilization, traveled extensively in the United States, Canada, and Europe. Chicago celebrated birth and creation in Western art by designing a series of images for needlework called "The Birth Project." "The Holocaust Project: From Darkness into Light" is a culmination of eight years of inquiry, travel, study, and artistic production by Chicago and her husband Donald Woodman. This project combines Chicago's paintings and Woodman's photography with works in stained glass and tapestry. Chicago has published seven books, most recently Beyond the Flower: The Autobiography of a Feminist Artist (1996). A retrospective of her work will open at the Florida State University Art Museum in 1999.

Judy Chicago's appearance at the Athenaeum is the first lecture in the series Artists and Inspirations.