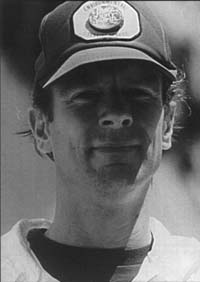 Making the New Eden: The Human Creative Spirit and the Movement to Save The Earth
CHRISTOPHER CHILDS
TUESDAY, FEBRUARY 9, 1999
Christopher Childs is a renowned author, photographer, and creator of seminars. As a national speaker for Greenpeace from 1988-96 he appeared on some three hundred college campuses. His inspirational book on the future of creative activism, The Spirit's Terrain: Creativity, Activism, and Transformation (1998), combines his extensive understanding of creativity with his experiences during a decade with the legendary Greenpeace. Childs has campaigned against lethal pollution and has been a consistent proponent for alternative energy sources. He has consulted on corporate productivity, debated nuclear testing with foreign diplomats, and even appeared on radio with Jerry Brown to argue against NAFTA. An active photographer as well, his work has appeared in E, the Royal Society of Canada's ECODECISION, and various Greenpeace publications.

Childs has also had a career as an actor, starring in PBS's Emmy Award winning Concealed Enemies. He has also appeared in a one man stage portrait of Thoreau, Clear Sky, Pure Light. He has performed with such renowned actors as Henry Fonda and Vanessa Redgrave.

His lecture will focus on "Making the New Eden: The Human Creative Spirit and the Movement to Save The Earth." Childs will share his personal perception of what it will take for the human experiment to be fulfilled. He will touch on the territories of reverence for the earth, of how to make fulfilling career choices, and of ecological issues. His appearance at the Athenaeum is jointly sponsored by the Roberts Environmental Center.