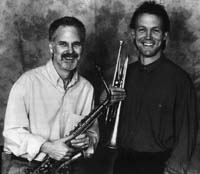 Kim Richmond/Clay Jenkins Jazz Ensemble
KIM RICHMOND, saxophone
CLAY JENKINS, trumpet
BILL PERKINS, saxophone
DAVE SCOTT, piano
TREY HENRY, bass
JOE LABARBERA, drums
WEDNESDAY, FEBRUARY 10, 1999
During the past decade, Kim Richmond and Clay Jenkins independently reached all-star status in California's West Coast Jazz scene. However, the history of popular music shows that collaboration, even among such outstanding musicians as Richmond and Jenkins, does not always prove exciting and fruitful. Despite many potential pitfalls, these co-leaders have blended their talents to produce in recent years one of America's most interesting and creative jazz ensembles. As their primary goal, the Richmond/Jenkins Sextet features pure improvisation, and listeners have responded very enthusiastically. Reviews of their performances sparkle with superlatives.

One cause for the group's success is its equally proficient supporting cast. The third-horn position is anchored by the legendary jazz saxophonist Bill Perkins, one of the most recorded and respected jazz improvisers currently practicing the art in Los Angeles. The all-star quality continues in the ensemble's rhythm section. Dave Scott is an inventive force on piano. Trey Henry is recognized as a rising-star among bass players, and Joe La Barbera is already established as one of the foremost drummers in contemporary jazz. Together, these four musicians provide much of the emotional communication, lyricism, and wonderfully creative contributions that characterize the Kim Richmond/ Clay Jenkins Sextet.

The ensemble has recorded two CDs: Range (1995) (Nine Winds) and Look at the Time (1999) (Chase Music Group). Both the collective efforts and the individual solos have received high praise from music critics.

Members of the sextet are also jazz teachers and have agreed to visit Claremont in that role as well. The evening's Athenaeum event marks the beginning of a series of music events aimed at revitalizing a CMC tradition of student jazz clubs and student bands. On February 10, the Richmond/Jenkins musicians will instruct the afternoon clinic and rehearse those CMC students interested in learning about jazz performance. The first numbers played at the Athenaeum event will feature a few student musicians from the afternoon clinic. Ashwin Navin '99 and economics professor Ron Teeples are helping to coordinate student participation in the clinic.