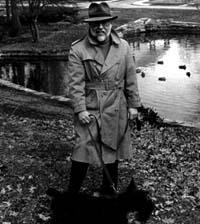 The Poet Reads from His Work
JOHN IRWIN
A.K.A. JOHN BRICUTH
THURSDAY, FEBRUARY 11, 1999
Eminent critic John T. Irwin and his alter ego, poet John Bricuth, have together forged one of the most remarkable careers in American letters. The author of Doubling and Incest/ Repetition and Revenge: A Speculative Reading of Faulkner (1996); American Hieroglyphics (1980); and Mystery to a Solution: Poe, Borges, and the Analytic Detective Story (1994), Irwin has won several prizes for his literary criticism and is one of the leading critics in the country. Bricuth has written two widely praised books of poetry: The Heisenberg Variations (1981) and Just Let Me Say This About That (1998). Of the latter book, critic John Barth wrote: "as strong and moving, funny and high-energetic and horrifically splendid a long poem as our language has been lately blessed with." J. M. Coetzee called it a "philosophical poem ... confronting the closing years of the American century with bleak hilarity and an unblinking eye."

Yet another prominent critic described Just Let Me Say This About That "like no other poem ever written-or else, all previous poems have been making toward it and meaning what it means. Ostensibly a record of a press conference (or conversation) at which a leader (or president) is questioned by his followers . . the poem begins in the midst of political-economic insecurities, passes into a dramatic consideration of the problem of evil and man's fated necessity to learn through loss, and concludes with the breakdown and renewal of the poet himself in the midst of all creation . . ."

Critic John T. Irwin and poet John Bricuth are one and the same person, Decker Professor in the Humanities and director of the Writing Seminars at Johns Hopkins University.

This reading is sponsored by the Gould Center for Humanistic Studies.