Athenaeum Location
Print Newsletter
February 22, 1999
Vol. 14, No. 08
ATHENAEUM FELLOW APPLICATIONS
Application forms for the position of Athenaeum Fellow for the 1999-2000 academic year will be available in the Athenaeum office on Monday, March 8. Completed applications must be returned by Friday, March 26 at 5:00 p.m.

Students desiring to be considered for the following year (2000-01) but who will be away from campus during the next year's selection process may submit their application now in order to be considered for the future position.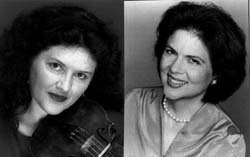 Music for Violin and Harpsichord
ELAINE THORNBURGH, harpsichord
ELIZABETH BLUMENSTOCK, violin
MONDAY, FEBRUARY 22, 1999
The Thornburgh-Blumenstock Duo has performed together for ten years in various venues around the country. They have played at the Los Angeles County Museum of Art, the University of Maryland, the University of Richmond, the Schubert Club, and the Tucson Early Music Society.

Elizabeth Blumenstock is widely recognized as a violinist of unique musical intelligence and expressive range. She has performed as concertmistress and soloist with the Boston Early Music Festival Orchestra and has regularly participated in various summer festivals, like the Santa Fe Chamber Music Festival and the San Luis Obispo Mozart Festival. In addition, she is a founding member of several of California's finest original instrument chamber music groups, including Concerto Amabile and the Arcadian Academy.

Elaine Thornburgh performs on harpsichord and fortepiano throughout the United States as both a soloist and in chamber ensemble, and teaches at Stanford University. She received her graduate degree at the San Francisco Conservatory of Music, and is a frequent lecturer- recitalist on historic instruments. She has performed concertos at various festivals and has been artistin-residence at many conferences and universities. Thornburgh has studied with such notable musicians as Alan Curtis and Malcolm Bilson.

The harpsichord for this evening's performance was provided courtesy of the Pomona College Department of Music. This concert is part of the Stotsenberg Chamber Music Series made possible through the generosity of Ed and Dorothy Stotsenberg, friends of the College.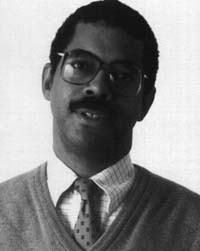 The Role of Virtue in Politics and Culture
STEPHEN CARTER
TUESDAY, FEBRUARY 23, 1999
Stephen Carter, author and professor, is asking tough questions and challenging the status quo with his provocative views on the challenges confronting America today. Drawing on insights from philosophy, theology, history, and law, Carter discusses the need for integrity in politics, business, and personal relationships and discusses possibilities of teaching it.

A prolific writer, Carter has authored Reflections of an Affirmative Action Baby (1991), The Confirmation Mess: Cleaning Up the Federal Appointments Process (1994), Integrity (1996), The Culture of Disbelief (1994) and most recently, Civility: Manners, Morals, and the Etiquette of Democracy (1998) and The Dissent of the Governed: A Mediation on Law, Religion and Loyalty (1998). He also contributes regularly to law reviews and publications including The New York Times, The Wall Street Journal, The New Republic, and The New Yorker.

Carter has enjoyed a distinguished career as a legal scholar. He received his bachelor's degree from Stanford University and went on to attend Yale Law School. Afterward, he clerked for Judge Spottswood W. Robinson, III, U.S. Circuit Court of Appeals, Washington, D.C. Circuit. He then was a law clerk to Supreme Court Justice Thurgood Marshall. Currently, he teaches contracts, law and religion, and a seminar on intellectual property at Yale University School of Law.

Carter's presentation is part of the Athenaeum series Integrity, Commitment, Achievement.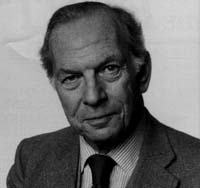 What Kind of European Union?
MICHAEL HOWARD
WEDNESDAY, FEBRUARY 24, 1999
Dean of Britain's military historians, Sir Michael Howard was formerly Regius Professor of Modern History at Oxford University and Robert Lovett Professor of Military and Naval History at Yale University, from which he retired in 1993. His numerous publications include The Franco-Prussian War (1961), The Continental Commitment (1972), War and the Liberal Conscience (1978), The Causes of Wars (1983), Strategic Deception in the Second World War (1995), and The Lessons of History (1991). Most recently, he coedited The Oxford History of the Twentieth Century (1998).

Sir Michael was born in London and educated at Oxford. He served with the British Army in Italy during World War II; twice wounded, he was awarded the Military Cross. He taught at King's College, University in London, before moving to All Souls College, Oxford, in 1968. Sir Michael is president and founder of the International Institute for Strategic Studies (London), which soon became one of the world's leading organization of its kind. He is a fellow of the British Academy and a Foreign Corresponding Member of the American Academy of Arts and Sciences. Among his honors are the NATO Atlantic Award and the Paul Nitze Award (U.S. Center for Naval Analyses).

In his scholarship and teaching, Sir Michael Howard has specialized in modern European history. Above all, he has illustrated the wide compass of military affairs-from single battles to grand strategy, from plans to politics, from weapons to ideals and ideology, from immediate decisions to long periods of social and cultural development. In an age when political scientists and economists dominate think tanks, Sir Michael reminds us all that history is full of precedents, warnings and guidelines, that strategic theory always needs grounding in the past.

Sir Michael is the third guest invited by the CMC history department to inaugurate the William F. Podlich Distinguished Visitors Program, endowed by CMC alumnus and trustee William Podlich'66.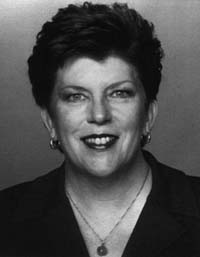 Educating California's Children
DELAINE EASTIN
THURSDAY, FEBRUARY 25, 1999
As State Superintendent of Public Instruction, Delaine Eastin has spearheaded education reform efforts throughout California. She has worked to improve reading and mathematics instruction and to reduce the size of classes in the early grades. She has advocated for the implementation for statewide standards, assessment, and increased accountability for student learning. She has striven to make all schools safe, healthy and up-to-date.

Eastin sits on many boards and commissions in her capacity as State Superintendent. She is the Executive Officer and Secretary of the State Board of Education and Director of the California Department of Education. She is also a member of the Regents of the University of California and trustee of the California State Colleges and Universities.

Eastin received her bachelor's degree from the University of California at Davis and a master's degree in political science from the University of California at Santa Barbara. After completing her degrees, Eastin spent years teaching and then worked in the private sector.

Prior to her election as State Superintendent, Eastin served four terms in the State Assembly representing the 20th District, which includes sections of Alameda and Santa Clara counties. As an assemblywoman, Eastin chaired the Education Committee and sponsored legislation to reform the K-12 system. She also supported charter schools, vocational training, and public libraries.

Eastin's presentation will conclude the series Education Reform.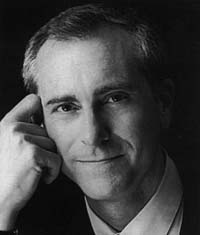 In Search of Lindbergh
A. SCOTT BERG
MONDAY, MARCH 1, 1999
Scott Berg is one of America's leading biographers. Raised in Los Angeles, Berg graduated cum laude from Princeton University where he majored in English. His senior thesis on Maxwell Perkins, the legendary editor who tutored such famous writers as F. Scott Fitzgerald and Ernest Hemingway, won him the Charles William Kennedy Prize. Berg spent the next nine years expanding his thesis into Max Perkins: Editor of Genius (1978). The book became a national bestseller and won the National Book Award, catapulting Berg to national prominence as an accomplished writer.

After being approached by his family and with the assistance of the Guggenheim Fellowship, Berg spent the next eight and a half years researching the life of Samuel Goldwyn, which eventually culminated in Goldwyn: A Biography, published in 1989. The book became a bestseller not only did it detail the life of one of America's leading movie moguls, but it also extensively examined the American movie industry from its origin to the present. The book has also been published in Japanese, Spanish, French, and Italian editions.

Berg has lectured extensively across the United States and Great Britain. He is a member of the Author's Guild, the Writer's Guild of America, PEN Center USA West, and the Century Association. His lecture at the Athenaeum will focus on his new biography on Charles Lindberg. Berg was granted unfettered access to the Lindberg family's archives and was able to painstakingly examine the life of one of America's great 20th century icons. You are welcome to join us as we hear this renowned biographer speak about one of this country's most famous adventurers.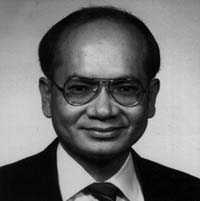 Ethnicity and Variability of Responses to Psychotropic Drugs
KEH-MING LIN
TUESDAY, MARCH 2, 1999
The past decade medical research has consistently shown that members of some ethnocultural groups were receiving inappropriate doses of psychotropic medicines. Further studies suggest striking interindividual and cross-ethnic differences in the response to psychotropics. Fundamental pharmacodynamic and pharmacokinetic processes seem to be implicated, which explains the clinical observation of differences in doses required, side effects profiles, toxic reactions, etc. Dr. Lin's research contributions are at the heart of the young field of pharmacogenetics and its exciting developments.

Our guest speaker notes that until the last few years "suggestions regarding possible cross-cultural/cross-ethnic differences in psychotropic responses were typically brushed aside as either unlikely or unimportant. Consequently, remarkable recent progress notwithstanding, much remains unknown regarding the influence of ethnic and cultural factors on the practice of modern psychopharmacology."

In 1974 Lin came to the United States from his homeland Taiwan. He completed residency training in psychiatry and earned his M.P.H. degree at Washington University, Seattle. Upon completion of his psychiatric residency, he was selected as a Robert Wood Johnson Clinical Scholar. Today, Lin is professor of psychiatry at UCLA and founder/director of the NIH Research Center on the Psychobiology of Ethnicity at Torrance. He is an internationally recognized authority in pharmacogenetics and cross-cultural psychiatry. This lecture is part of the Brain, Mind, and Medicine: Cross-Cultural Perspectives Program sponsored by CMC, Harvey Mudd, and Pitzer Colleges.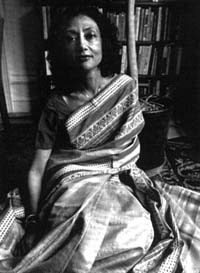 The American Epic: Who is Singing My Song?
BHARATI MUKHERJEE
WEDNESDAY, MARCH 3, 1999
Bharati Mukherjee has received wide acclaim for her novels and short stories. Her novel The Holder of the World (1993) encompasses a vision of America from the Puritan to the modern. Her other novels include Leave it to Me (1997), Jasmine (1989), Wife (1975), and The Tiger 's Daughter (1972). With her husband, Clark Blaise, she authored two nonfiction books, Days and Nights in Calcutta (1990) and The Sorrow and the Terror The Legacy of the Terrorist Bombing of Air India Flight #182 (1987). She has also published two collections of short stories, Darkness (1985) and The Middleman and Other Stories (1988), for which she won The National Book Critics' Circle Award for Best Fiction.

Mukherjee's other honors and grants include a Guggenheim Fellowship, a grant from the National Endowment for the Arts, and a Canada Council Senior Arts Fellowship.

Born in Calcutta, Mukherjee attended the University of Baroda in India where she studied English and ancient Indian culture. She earned a master of fine arts and a doctorate in English and comparative literature from the University of Iowa. She has taught creative writing at Columbia, New York University, and Queens College. She now holds a distinguished professorship at the University of California, Berkeley.

Mukherjee is the first of three authors in the Athenaeum series on the American Epic, featuring works of large historical scope that attempt to discover who we are and where we are going.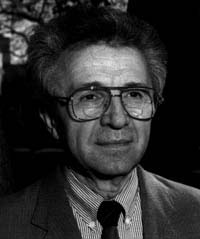 Internationalism in an Eastern European Perspective
ZOLTAN ABADI-NAGY
THURSDAY, MARCH 4, 1999
Zoltan Abadi-Nagy has been, until recently, the Rector (or President) of Lajos-Kossuth University in Debrecen, Hungary. A leader in the educational and political life in central and eastern Europe, he is also one of Europe's foremost experts on American culture. The director of the first American Studies Ph.D. program accredited in Hungary, he has also taught at the Universities of Minnesota, Oklahoma, and California, Irvine. He is the author of Crisis and Comedy: The American Novel of the 1960 's and Guide to Contemporary American Fiction, 1970-1990 (1995), as well as seven other books and numerous articles, reviews, essays, and translations. His writing, teaching, and service have earned him numerous prizes and distinctions, including the Szent-Gyorgyi Albert Prize from the Hungarian Ministry of Culture and Education. As cultural mediator between eastern Europe and America, he is uniquely qualified to explain each to the other.

Professor Zoltan Abadi-Nagy's talk is sponsored by the Gould Center for Humanistic Studies.