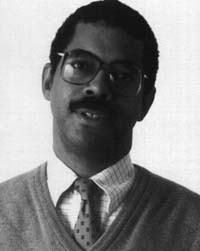 The Role of Virtue in Politics and Culture
STEPHEN CARTER
TUESDAY, FEBRUARY 23, 1999
Stephen Carter, author and professor, is asking tough questions and challenging the status quo with his provocative views on the challenges confronting America today. Drawing on insights from philosophy, theology, history, and law, Carter discusses the need for integrity in politics, business, and personal relationships and discusses possibilities of teaching it.

A prolific writer, Carter has authored Reflections of an Affirmative Action Baby (1991), The Confirmation Mess: Cleaning Up the Federal Appointments Process (1994), Integrity (1996), The Culture of Disbelief (1994) and most recently, Civility: Manners, Morals, and the Etiquette of Democracy (1998) and The Dissent of the Governed: A Mediation on Law, Religion and Loyalty (1998). He also contributes regularly to law reviews and publications including The New York Times, The Wall Street Journal, The New Republic, and The New Yorker.

Carter has enjoyed a distinguished career as a legal scholar. He received his bachelor's degree from Stanford University and went on to attend Yale Law School. Afterward, he clerked for Judge Spottswood W. Robinson, III, U.S. Circuit Court of Appeals, Washington, D.C. Circuit. He then was a law clerk to Supreme Court Justice Thurgood Marshall. Currently, he teaches contracts, law and religion, and a seminar on intellectual property at Yale University School of Law.

Carter's presentation is part of the Athenaeum series Integrity, Commitment, Achievement.