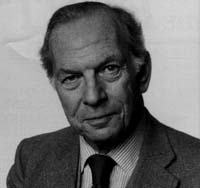 What Kind of European Union?
MICHAEL HOWARD
WEDNESDAY, FEBRUARY 24, 1999
Dean of Britain's military historians, Sir Michael Howard was formerly Regius Professor of Modern History at Oxford University and Robert Lovett Professor of Military and Naval History at Yale University, from which he retired in 1993. His numerous publications include The Franco-Prussian War (1961), The Continental Commitment (1972), War and the Liberal Conscience (1978), The Causes of Wars (1983), Strategic Deception in the Second World War (1995), and The Lessons of History (1991). Most recently, he coedited The Oxford History of the Twentieth Century (1998).

Sir Michael was born in London and educated at Oxford. He served with the British Army in Italy during World War II; twice wounded, he was awarded the Military Cross. He taught at King's College, University in London, before moving to All Souls College, Oxford, in 1968. Sir Michael is president and founder of the International Institute for Strategic Studies (London), which soon became one of the world's leading organization of its kind. He is a fellow of the British Academy and a Foreign Corresponding Member of the American Academy of Arts and Sciences. Among his honors are the NATO Atlantic Award and the Paul Nitze Award (U.S. Center for Naval Analyses).

In his scholarship and teaching, Sir Michael Howard has specialized in modern European history. Above all, he has illustrated the wide compass of military affairs-from single battles to grand strategy, from plans to politics, from weapons to ideals and ideology, from immediate decisions to long periods of social and cultural development. In an age when political scientists and economists dominate think tanks, Sir Michael reminds us all that history is full of precedents, warnings and guidelines, that strategic theory always needs grounding in the past.

Sir Michael is the third guest invited by the CMC history department to inaugurate the William F. Podlich Distinguished Visitors Program, endowed by CMC alumnus and trustee William Podlich'66.