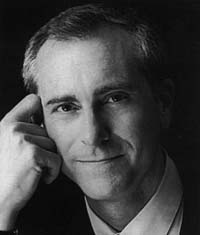 In Search of Lindbergh
A. SCOTT BERG
MONDAY, MARCH 1, 1999
Scott Berg is one of America's leading biographers. Raised in Los Angeles, Berg graduated cum laude from Princeton University where he majored in English. His senior thesis on Maxwell Perkins, the legendary editor who tutored such famous writers as F. Scott Fitzgerald and Ernest Hemingway, won him the Charles William Kennedy Prize. Berg spent the next nine years expanding his thesis into Max Perkins: Editor of Genius (1978). The book became a national bestseller and won the National Book Award, catapulting Berg to national prominence as an accomplished writer.

After being approached by his family and with the assistance of the Guggenheim Fellowship, Berg spent the next eight and a half years researching the life of Samuel Goldwyn, which eventually culminated in Goldwyn: A Biography, published in 1989. The book became a bestseller not only did it detail the life of one of America's leading movie moguls, but it also extensively examined the American movie industry from its origin to the present. The book has also been published in Japanese, Spanish, French, and Italian editions.

Berg has lectured extensively across the United States and Great Britain. He is a member of the Author's Guild, the Writer's Guild of America, PEN Center USA West, and the Century Association. His lecture at the Athenaeum will focus on his new biography on Charles Lindberg. Berg was granted unfettered access to the Lindberg family's archives and was able to painstakingly examine the life of one of America's great 20th century icons. You are welcome to join us as we hear this renowned biographer speak about one of this country's most famous adventurers.