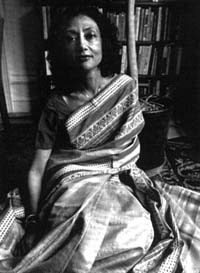 The American Epic: Who is Singing My Song?
BHARATI MUKHERJEE
WEDNESDAY, MARCH 3, 1999
Bharati Mukherjee has received wide acclaim for her novels and short stories. Her novel The Holder of the World (1993) encompasses a vision of America from the Puritan to the modern. Her other novels include Leave it to Me (1997), Jasmine (1989), Wife (1975), and The Tiger 's Daughter (1972). With her husband, Clark Blaise, she authored two nonfiction books, Days and Nights in Calcutta (1990) and The Sorrow and the Terror The Legacy of the Terrorist Bombing of Air India Flight #182 (1987). She has also published two collections of short stories, Darkness (1985) and The Middleman and Other Stories (1988), for which she won The National Book Critics' Circle Award for Best Fiction.

Mukherjee's other honors and grants include a Guggenheim Fellowship, a grant from the National Endowment for the Arts, and a Canada Council Senior Arts Fellowship.

Born in Calcutta, Mukherjee attended the University of Baroda in India where she studied English and ancient Indian culture. She earned a master of fine arts and a doctorate in English and comparative literature from the University of Iowa. She has taught creative writing at Columbia, New York University, and Queens College. She now holds a distinguished professorship at the University of California, Berkeley.

Mukherjee is the first of three authors in the Athenaeum series on the American Epic, featuring works of large historical scope that attempt to discover who we are and where we are going.